Get Your ASU Party Bus Here!
Arizona State University (ASU) your chariot awaits!
Gather up your friends and party like you are never going to stop.
No one gets a DUI. No one gets lost or left behind.
Don't hassle with traffic and parking. Get yourself a driver. You deserve it.
Party buses are great because so many people can travel together. If you split the cost it becomes a very affordable night out.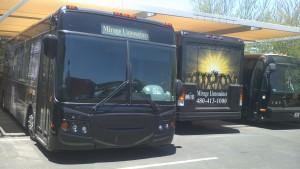 Mirage Limousines' Party Buses
Mirage Limousines has more party buses than anyone else in the Valley of the Sun. We practically have one of every size. From the small and intimate type to the super huge gargantuan size. We definitely have something to suit you perfectly.
Scroll to the bottom of this post for a list of exciting events happening around ASU. We want to make sure you don't miss anything!
The Gargantuan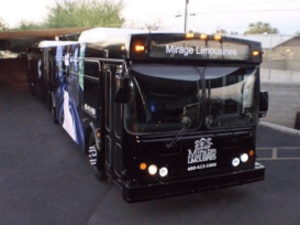 The largest party bus in the state and probably in the world, this gargantuan vehicle seats up to sixty-five people.
Although, no one is expected to be sitting.
The sound system is amazing. With 28 Speakers and 6 Amps, this baby is going to be jumping.
Lights will sparkle around this vehicle, both laser and fiber optic.
This gargantuan is seventy feet long. Its so long that it bends in the middle.
This gargantuan party bus (or limousine bus) is decked out with:
Three 42 inch Plasma TV's
Super Surround Sound
28 Speakers and 6 Amps
7 Crystal Bars
VIP Section
 Illuminated Dance Floor Throughout
DVD/MP3/iPod Hook-up
Mood Altering Fiber Optic Lighting Throughout
Laser Light Show
Dance Poles
Bubble Lamps
Tufted Seating
We have spared no expense and you really must come see it for yourself.
See more about this gargantuan party bus here.
The Big One
This is not the biggest party bus that we have but it used to be the biggest. The name just stuck. Its the Big One.
This party bus also has a stereo system that will amaze you. It will be difficult to stay in your seat. You will want to dance.
Grab a partner!
Surrounded with crystal and mirrors this vehicle is a dazzler.
This limousine party bus features:
60″ Plasma TV's
Disco Style Fiber Optic Lighting
3 Crystal Bars
Leather Seating
Surround Sound Stereo with CD/DVD and i-Phone Hookup
Like all of our vehicles, we have spared no expense.
See more about the Big One on this page.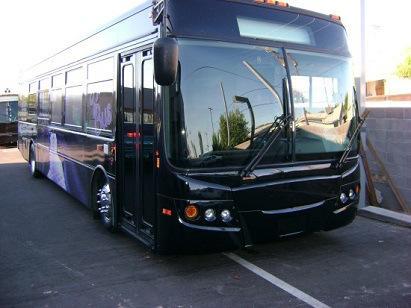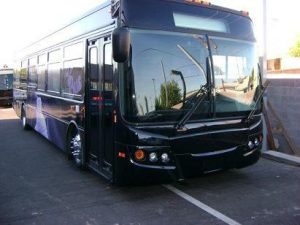 Medium Sized Party Bus
Yes we call it the Medium Bus. Not too fancy of a name but that won't stop you from having an amazing time.
This is by far our most popular bus. Thirty-five must just be a popular number of friends. This party bus holds thirty-five passengers.
Expect a light show to amaze, crystal and mirrors and the latest in electronics in this our most popular party bus. Inside you'll find:
Disco floor
Fiber optic lighting
Bubble lamps
State of the Art Sound
Tufted seating
Crystal bars, carafes and glasses
Multiple LCD TV's
Dance pole
See the videos of this Medium Bus on our page dedicated to this party bus.
The Small Bus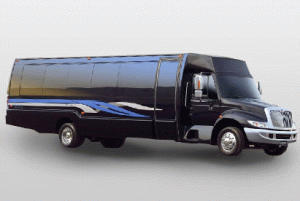 This bus is for a more intimate crowd of twenty-five. It is as deluxe as the bigger models. Just smaller.
It comes with crystal and mirrors, laser lights and fiber optics, a booming stereo and huge TV.
Gather up your friends. You are about to have the time of your life!
You are worth it!
ASU Party Bus Events
Now that you are back lets round up some fun. There are tons of fun things to do now that the weather is finally cooling off.
Party buses are great because so many people can travel together. If you split the cost it becomes a very affordable night out.
With a party bus you don't really need a destination. The ride in a party bus is just so fun. Maybe you should just drive a route. Three hours of driving around, picking people up and then dropping them back off at home. Safe and sound.
The whole adventure is like a traveling night club. Trust me, some night clubs aren't even this fun.
If you really must have a destination may we recommend a club crawl.
Club Crawl
Start by having everyone meet at one location. Preferably somewhere everyone can stay who may be too drunk to safely drive home.
Then have the party bus come get you there.
For the next three hours, at least, your luxury transportation can crawl down Scottsdale Rd. bar hopping the whole way. Find a spot that's not too fun. That's OK. Pack everyone up and head to the next stop on your route.
Finally end up where you began. Everyone is safe. No one is frazzled from fighting traffic or parking or whatever.
ASU Football Game
Another great time to book a party bus is for a game whether its ASU Sun Devils or AZ Cardinals. Plus, there are plenty of other sporting events in the city from baseball to hockey.
Traveling together to a sporting event just adds that special something. You know how parking can be at some of these things. And the traffic can make you want to break something.
Here are the next few games at Sun Devil Stadium:
Saturday, Sep. 26 against the USC Trojans
Saturday, Oct. 10 against Colorado Buffaloes
Thursday, Oct. 29 against Oregon Ducks
Mirage Limousines will drive out of state. So if you want a party bus to go to the Pasadena game on Oct 3rd give us a call. We'd love to take you and your friends to see that game in Cali.
Get yourself a driver. You deserve it!
ASU Homecoming
ASU Homecoming is in November so start planning something big. This event is a big deal to your school and to you.
ASU Homecoming in 2015 will be held from November 8 – 14. There will activities University-wide this whole week.
For example, ASU Students, Alumni, Family and Friends are invited to attend the Homecoming parade on Saturday, November 14, 2015. The Parade will begin 4 hours prior to the start of the Homecoming football game. The time of the football game has not yet been determined. So stay tuned for parade times.
If you would like to participate in the parade, follow this link. The Programming and Activities Board (PAB) at ASU encourages student organizations, fraternities and sororities, to be a part of this great Homecoming tradition.
Another great Homecoming event is the Lantern Walk. Lantern Walk is one of ASU's oldest and most treasured traditions. First celebrated in 1917, each year students, alumni, faculty, staff and friends climb to the top of A Mountain. They all carry lanterns to light up Tempe, following in the footsteps of their Sun Devil ancestors.
At Lantern Walk, Sun Devils climb to the top of "A" Mountain. The event takes place each year on the Friday night before the Homecoming game. This year Lantern Walk will be held on Friday, November 13, 2015 and will begin right after the ASU Men's Basketball game.
Let Mirage Limousines scoop up you and your friends for this and all the other wonderful Homecoming events.
Its a way to celebrate what it means to be a Sun Devil.
Nothing like it!