Three Big Games in Phoenix
Phoenix is hosting three huge college football games this season. We were lucky enough to get the CFP National Championship. That in itself is a big win.
BattleFrog Fiesta Bowl is an amazing line up. Ohio State and Notre Dame. Can you say epic rematch?
And let's not forget the Cactus Bowl. Home town fans can enjoy their boys being celebrated on national TV. Go Sun Devils!
Mirage Limousines wants to be your source for things to do in Phoenix. And baby, this is the thing to do in Phoenix this holiday season. Hands down.
This post is jam packed with everything Fiesta Bowl. Plus a little bit more about the CFP National Championship and the Cactus Bowl. If you already read this previous blog post, then you know a great deal about the CFP National Championship festivities that Phoenix has planned.
If you missed it you can get caught up here. Its full of fun and fireworks.
Bowl Games in Phoenix
There will be three major college football games played in Phoenix this holiday season:
CFP National Championship
BattleFrog Fiesta Bowl
Motel 6 Cactus Bowl
The CFP National Championship teams will be decided New Year's Eve. The two bowl games that decide the championship teams will be played New Year's Eve. Yes, New Year's Eve, NOT New Year's Day as is typical. Plan accordingly.
For tons of detailed information about the festivities surrounding the CFP National Championship click the link to read a thorough blog post on the subject. Check it out to see where you can get in on the fun. There will be live bands and fireworks, celebrities and ESPN broadcasting live.
The Motel 6 Cactus Bowl will be held at Chase Field. Yes at the baseball stadium. It plans to be a spectacular game even if it is not part of the play offs this year.  The match up is between Arizona State and West Virginia. Go Sun Devils!
Chase Field parking lots owned and/or operated by the Cactus Bowl do not permit tailgating. The tailgating policy of the surrounding independently owned lots is at the discretion of the owner. No further information is available. We regret the inconvenience.
For more information about attending the Cactus Bowl visit:
https://www.fiestabowl.org/sports/rate/roster/26th-annual-game–2015/106
BattleFrog Fiesta Bowl
Notre Dame Fighting Irish and Ohio State Buckeyes have won the honors of participating in this season's BattleFrog Fiesta Bowl.
It is a rematch of the 2006 Fiesta Bowl which Ohio State won 34-20. Ohio State enters the game as heavy favorites, but many of Notre Dame's strengths appear to match up well against the Buckeyes.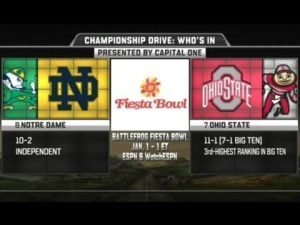 The defending national champs are apparently disappointed about playing in the Fiesta Bowl. (Boo! Hiss!) That being said, it is still has the potential to be an amazing game.
Controversy swirls as Tim May, of the Columbus Dispatch, notes that Ohio State senior defensive lineman Adolphus Washington has been suspended for the Fiesta Bowl. He was recently charged with a first-degree misdemeanor. No Buckeyes lineman pressured the quarterback more than Washington this season.
In Washington's absence, all eyes will be on the star of Ohio State's defense, Joey Bosa. Normally lining up on the left, this will match him up against Notre Dame right tackle Mike McGlinche. Scouts are hoping to see Bosa versus Ronnie Stanley since both prospects are potential top-10 picks in next year's NFL draft.
It will be just the sixth meeting between the schools, with Ohio State winning the last three. The Irish last took down the Buckeyes in 1936.
Fiesta Bowl Predictions
Campus Insider and The Bleacher Report are well known and credible sources for bowl game predictions.
Both have an interesting and entertaining perspective on the topic.
Campus Insider Fiesta Bowl Predictions
Campus Insiders takes you deep inside college sports. A platform that broadcasts the games, covers the events, provides the highlights, and tells the stories of college sports.
Honest enough to admit that their programming will be lively, provocative, and even include controversial debates tied to the issues of the day in college sports. Who doesn't love a little controversy?
Jordan Cornette, of Campus Insiders, gives the win to Notre Dame's Fighting Irish. His reasoning is that they have something to prove. Notre Dame returns to the Fiesta Bowl after a 2006 loss to the Ohio State Buckeyes. Read about the last encounter here: https://www.espn.com/college-football/recap?gameId=260020194
Campus Insider promises to give you the inside scoop.
"Our embedded Insiders will…not only report on the Xs and Os [but also what's] happening in the locker rooms and on the fields of play… it's time for all of us to mix it up the same way we all have done at our tailgates throughout our lives."
Bleacher Report Fiesta Bowl Predictions
Ryan McCrystal , Featured Columnist at the Bleacher Report, goes right after what may be the Fiesta Bowl's first controversy. That is, the defending national champs are apparently disappointed about playing in the Fiesta Bowl. Boo!
McCrystal assures us that the Buckeye's coach, Urban Meyer, will not let his team disappoint the fans. He has an impressive 8-2 record in bowl games.
The Buckeyes are a little disappointed and many of them are headed to the NFL in April. Taken together, the underdog would normally fare well in this scenario. However, McCrystal is going with  the bookies in predicting a Buckeye win. Prediction: Ohio State 38, Notre Dame 21
Fiesta Bowl Tailgating
Tailgating the Fiesta Bowl will be a blast. As long as you follow the rules.
Trust Mirage Limousines to know the rules. We have been tailgating big games for decades.
We are here to make your tailgating experience a success with a few things to keep in mind as you plan to tailgate the Fiesta Bowl:
Tailgating in the parking lots must be limited to the area directly in front or behind the vehicle. Tailgating in empty stalls or on the lawns is prohibited. Passes may not be purchased for use as tailgating space.
Consumption of alcoholic beverages is legal only in designated tailgating areas and specific events sponsored by the Fiesta Bowl.
Natural gas or propane grills are permitted in the parking areas
Charcoal grills and glass containers are not permitted.
Fans are limited to preparing food for their family and friends.
Private catering companies are not allowed in the parking area.
The sale of food and beverages to other fans is not permitted.
Tailgating activities are not allowed to resume after the game.
No worries though. Mirage Limousines has you covered. We will make sure all the rules are followed so that you can just relax and have fun.
If you would like more information on tailgating the Fiesta Bowl, follow this link: https://www.fiestabowl.org/sports/rate/roster/26th-annual-game–2015/106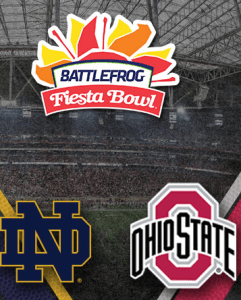 Attending the Big Game
There a number of restrictions when attending the big game(s).
They are pretty much the standard restrictions that we are all used to dealing with for the past decade or more.
Mirage Limousines will help you to remember them. We have years of experience with these big games.
If you would like to review the restrictions for yourself, you can see them here.
Fans will NOT be allowed to bring in:
• Aerosol cans
• Alcohol
• Animals (except for service animals)
• Any item deemed inappropriate or hazardous by stadium security
• Bags larger than 12" x 12" x 12" with no one dimension or side larger than 12" (small fanny packs, backpacks, purses and diaper bags, if accompanied by a baby/infant, are allowed)
• Banners or signs larger than 3' x 2' (obscene language prohibited)• Beverages, beverage containers, bottles, cans and thermoses (one factory-sealed, non-frozen 500 mL/16.9 fl.oz. bottle of clear water per person is allowed)
• Brooms, poles or sticks of any kind
• Cameras with professional photo lenses larger than eight inches and mono/tripods
• Selfie Sticks
• Chewing tobacco and E-cigarettes
• Clothing deemed obscene or indecent
• Coolers of any kind
• Fireworks
• Folding chairs
• Food (except for children under 2 years of age)
• Footballs and beach balls
• Laptop computers (tablet devices are allowed)
• Laser pointers
• Noisemakers including but not limited to whistles, horns, bells, etc.
• Radios (except personal radios accompanied with headphones)
• Radio frequency scanning devices
• Rollerblades or skateboards
• Strollers must be checked at a Guest Services location within the stadium; small umbrella strollers must collapse and fit underneath seat
• Umbrellas larger than 12" in length
• Video cameras
• Weapons including, but not limited to, firearms and knives
Mirage Limousines has you covered. If you cannot remember this whole list, trust us to keep you informed. If you would like more information about what is and is not allowed,follow this link: https://www.fiestabowl.org/
Your Ride is Waiting
Mirage Limousines has more limos and party buses than anyone else. We have a huge showroom on Scottsdale Rd in Scottsdale, AZ, come see your car.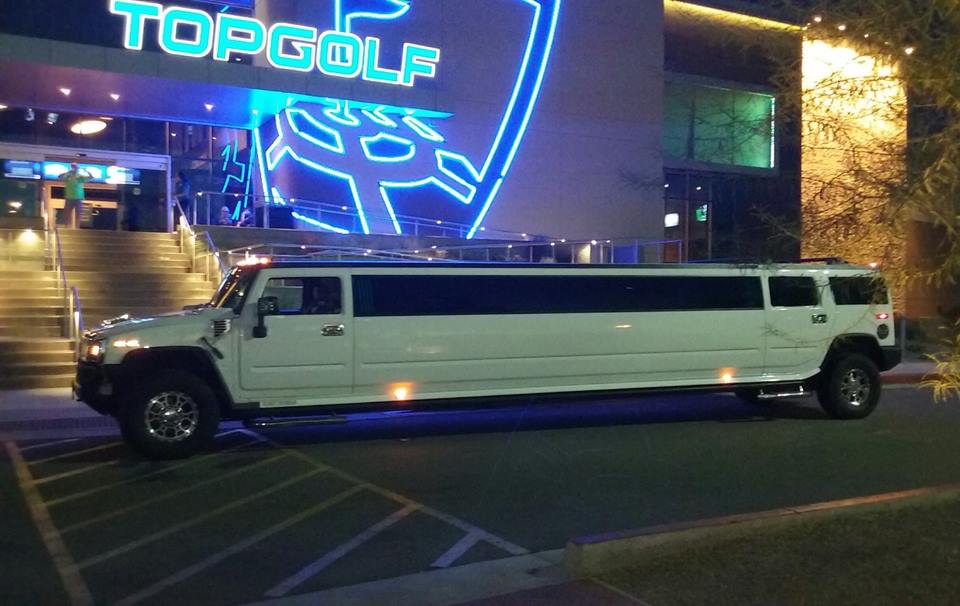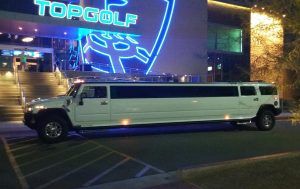 These are just a few of our vehicles. Visit the Fleet Page to see them all.
The limos, both stretch sedans and stretch SUV's are isolated here.
Mirage Limousines wants to be your ride to the big game.
You should just enjoy your guests and the big game(s). Its the holidays for Pete's sake.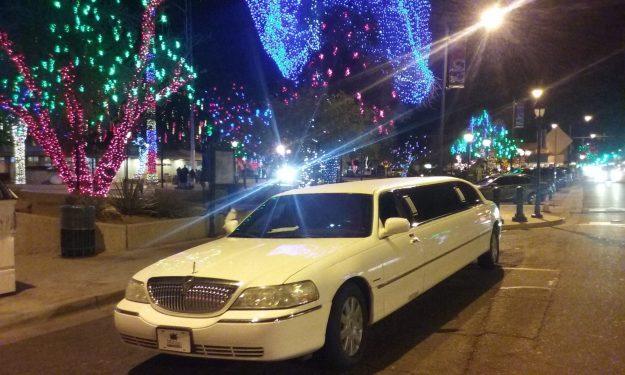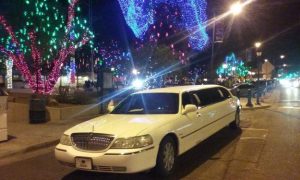 You know the traffic at the stadium is going to, well, stink. The parking lots will be hectic. And when you are ready to leave you will have to sit in your car and wait your turn. Do you get upset in traffic? Don't let your guests see that.
Get yourself a driver. That way, you can be celebrating with your guests while your driver fights the traffic. Let the party begin the moment you step out your door. And not end until you are back at your door.
Party buses? You bet. More than anyone. Its like a broken record, we know. Find them all here.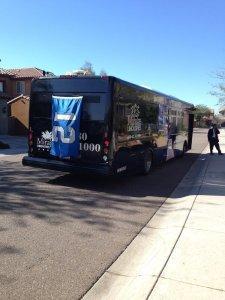 Mirage Limousines wants you to tailgate with us. We have many years of experience tailgating at big games. We know what you can and cannot do, we know the parking restrictions and more. Whether in a limo or a party bus, trust Mirage Limousines to tailgate in style.
The Fleet Page lists everything. It has images and amenities. All of our vehicles are really deluxe. We even have standard luxury vehicles like a BMW and an Escalade.