Wondering what to do with your Holiday guests?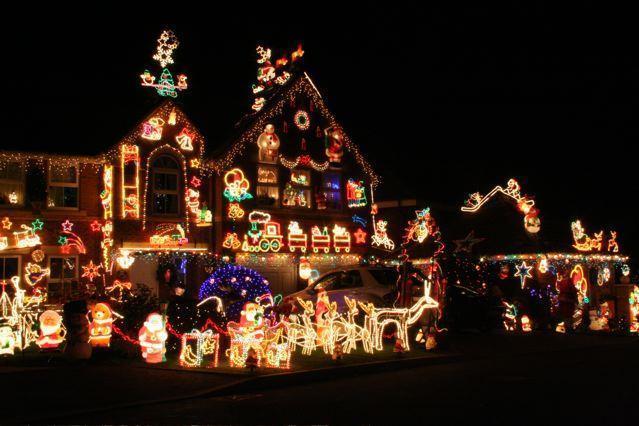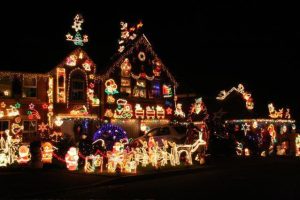 Impress them with a Holiday Light Tour in a limo or party bus!
We are so lucky to live here. When the weather cools around here, in the desert, everyone gets in a festive mood. It is finally the holiday season. From Halloween on the temperatures dip and for many of us, this is why we live here. You don't have to shovel it!
The holiday season is here. Draw your family close. Plan a holiday tradition that everyone loves in the desert. Go on a holiday light tour.
Arizona is famous for spectacular holiday light displays. With the weather in Phoenix so moderate, businesses and families can really take their time and put together fabulous arrangements.
Since there is no snow to contend with setting up holiday lighting is just easier here than in many other places around the country. Many of the holiday light displays in Arizona grow year after year. The mild winter does little damage to the holiday decorations here in the desert. Therefore these decorations last for many years.
This also means holiday decorating aficionados can add to their displays year after year, instead of having to replace decorations damaged by the ice and snow. One of the many benefits of our mild Arizona winters.
Driving around to see these fabulous displays is easier too. The roads aren't icy and there is no snow storm to obstruct your view. This probably motivates people to go that extra mile when decorating their homes or business. They know you will be swinging by and they want to be ready!
Mirage Limousines Your Holiday Light Tour Guide
Here at Mirage Limousines we want to make it even easier to get out and enjoy the fabulous holiday displays around Phoenix.
Sit back and relax in one of our luxury vehicles as we take on the hassle of traffic congestion and parking. Don't fight the traffic. Let us.
Pack up some hot chocolate. We will navigate the traffic jams. Trust our professional chauffeurs to take you to the holiday light displays that will amaze.
Don't Let This Be You
Do you see anywhere to park here? No? No problem.
You want to get out and look around at the display?  Don't worry about a parking space. Let Mirage Limousines deal with all that. We can let you out to enjoy the holiday decorations. Our drivers will just stay close. So you can signal whenever you're ready to picked back up. We'll swing by and pick you back up. How's that for service?
Mirage Limousines wants to be your source for holiday light tours.  We've been providing them in the Phoenix metro area for over twenty years. We know how to make you feel like royalty. Impress your guests, get a driver.
Sip on some champagne or even hot chocolate and leave the driving to us.
Creating Your Own Holiday Light Tour Tradition
Mirage Limousines knows all the best holiday displays in town. We have been providing these light tours for over twenty years.
An AZ Central story from 2010 mentioned Mirage Limousines and invited its readers to enjoy sipping champagne while they take in the holiday lights in a limo. We couldn't agree more.   Although the story is little dated it is still a great source.
In order to tour the holiday lights in a limo, you can be treated to our very own proprietary, trade secret, holiday light tour route.
Or you can make up a route of your own. Either way, it will be the easiest holiday light tour you have ever taken.
No need to concern yourself with parking or traffic congestion. Sip on some champagne and leave the driving to us.
Our feelings will not be hurt if you decide not to use our trade secret tour and you decide to create one of your own.
To that end, we provide the following information. We won't give away our trade secret holiday light tour route. But we will gladly share with you what other people think is a good list of holiday light displays.
Holiday Light Tour Destinations
Don't know where to start? That's OK. We'll show you. For the adventurous among you, here are a few suggestions.
There are many great sources to find holiday light displays in Arizona. One great source is the AZ Central. A local publication with years in the Phoenix market. AZ Central is the go to source for anything Arizona. They have created:
From the west side of Phoenix to the east, the city is lit up in full appreciation of this giving time.
Holiday Lights on Phoenix' West Side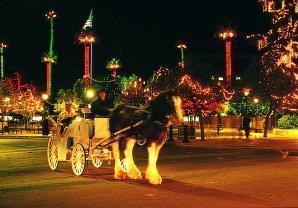 Holiday Lights in Glendale, AZ (58th and Glendale Avenues, Glendale, AZ )
Glendale has been known to go all out with its holiday lights downtown. Glendale Glitters, as it is called, sports 1.5 million lights covering more than 16 blocks in Historic Downtown Glendale. It is budget-friendly and family-oriented. The Glendale Civic Center is draped from stem to stern in the latest in holiday light design.
Have you seen the lights that twinkle downward on a sheet of strings that make them appear like snow falling? They have them here.
Glendale has turned the holiday lighting season into a full fledged event. There will be horse drawn carriages. The city of Glendale may even truck in some snow for the kids to play. There are always musicians and artists plying their wares. The last few weekends there will be hot air balloons in the street to view.

The holiday lighting season has grown to attract more than 275,000 annually. It's free and runs from Thanksgiving weekend to mid-January.
The Largo Residence (5309 W. Barbara Ave, Glendale, AZ 85302)
While you are over on the west side, don't miss the Largo family's holiday display.
The Largo's have a music-synched, ever-changing curved light tree towering high on top of their roof.
The rest of their home is adorned with awe-inspiring displays as well.
Holiday Lights on Phoenix' East Side
ZooLights (455 N. Galvin Parkway, Phx, AZ 85008)
The Phoenix Zoo features Zoo Lights from November right into January. This event is visited by over 300,000 people each year.
The light show combines 3.8 million lights with Music in Motion shows. The Zoo has added a new 4-D theater. An amazing multi-sensory event including snow, fog and gusts of wind.
Watch as an ice sculptor magically makes an animal appear out of a 300-pound block of ice.
The Sepanek Residence (4415 E. Calle Tuberia, Phx, AZ 85018)
Lee and Patricia Sepanek have become quite famous for their holiday display.
They decorate with 250,000 lights and hundreds of animated characters. The windows to their home become Macy's style decorated windows. There is music and the light displays dance to the music. An 80′ tall tree is completely decorated. They have been known to run a bubble machine and an artificial snow machine.
Plus, they serve hot cocoa!
Holiday Light Tour in a Limo Tradition
Do you have a new family this holiday season? If so, its a perfect time to start a new holiday tradition.
Create memories with your new and growing family.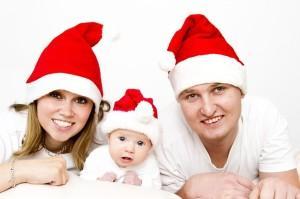 Or build new memories with your aging parents, or college bound young adult children.
Everyone loves a ride in a limo.
Want some quality family time? Who can say no to a limo ride? Even your most surly teenager won't be able to say no to a holiday light tour in a limo.
Take the family. Start your own tradition. Don't miss your chance to take in the lights in style.
Book a Holiday Light Tour
Mirage Limousines has been doing holiday light tours for nearly thirty years.
Trust us to take you to the biggest displays and displays with the kind of novelty only scene in Arizona, like saguaro cactus's draped in lights.
You won't see that too many other places.
Plan a Holiday Light Tour-Help is Here
Do you need help planning a holiday light tour?
We have written many blog posts about Holiday Light Tours. Each includes a different light display. See pictures of some of the best displays in the Phoenix area. Read about the special things you can find at the holiday light destinations. Interested in some hot chocolate? Find out where to find lights and hot chocolate.
Check out this blog post about The Princess and the Zoo. In 2015 the Princess resort added cozy corners by a fire. Enjoy your hot chocolate and watch the ice skaters. The Zoo has several new added attractions as well. Check out this blog post to read all about it.
Start a Holiday Light Tradition. This blog post reminds you that you are making memories. These memories make up a life. As you plan your new tradition consider why you should do it in a limo. This blog post highlights the value of hiring a driver. Don't battle the traffic. Don't search for parking. Read more here.
Glendale Glitters is an amazing collection of things to do this holiday season. See the lights, enjoy some hot chocolate. Carolers, horse-drawn carriages and artists of all kind surround the park that sports Glendale Glitters. Check out this offering to learn more.
Phoenix and its suburbs combined make for a huge landmass.
There is just no way to see all the holiday lights around town in one outing. Whether creating your own holiday light tour or leaving the tour to us, focus on your side of town. That way you don't spend time just driving to your first destination.
This blog post highlights the light displays on either side of Phoenix. One section caters to the west side of Phoenix, the other focuses on the east.  Since there is no way to see both sides of town in one night, plan carefully. Check out this post to help with your planning.
Mirage Limousines loves this time of year. This is why we all live here. You don't have to shovel.
You can still enjoy the holiday season, even without the snow. As a matter of fact, the light displays are better in the desert. There is less destruction to the lights during the season so they can be used year after year. And setting them up in our balmy weather is a breeze compared to towns that get snow.
Get out! Enjoy the season. Build a tradition, and memories.
Get Your Limo or Party Bus
Mirage Limousines has been providing luxury transportation for over twenty years. No one does it better. Mirage knows what you expect from a limousine or party bus.
Top Notch Audio
Video System
Fiber Optic Lighting
Laser Lights
Crystal
Mirrors
and more
Many of our vehicles have lighted floors and ceilings. Plan to be amazed.
Oldest & Largest Limo Service and Party Bus Rental in Arizona (480) 970-7700 Call anytime, 24 hours per day, seven days per week.
See it Before You Book it!
See all of Mirage Limousines Luxury Transportation options here.
Mirage Limousines:
813 N Scottsdale Rd
Scottsdale, AZ 85257
Showroom Hours:
Mon-Fri 10am-5pm
Sat 9am-6pm
Call (480) 970-7700 24/7
Visit our showroom to see your luxury transportation in person.
Mirage Limousines invites you to see it before you book it!