Book a Holiday Light Tour Now
Holiday light tours in a limo are a tradition for many in Arizona.
Sit back and relax.
Take the family. Start your own tradition.
Plan on spending at least three hours winding through this city we love. You will be taken to see displays that will definitely delight your entire party.
Light Tour Options
You can be treated to our proprietary, trade secret, holiday light tour route. Or you can make up a route of your own. Either way it will be the easiest holiday light tour you have ever taken. No need to concern yourself with parking or traffic congestion. Sip on some champagne and leave the driving to us.
Holiday Lights in Arizona
Arizonians go all out on our holiday decorations. Lack of snow plays a role in this in two ways. First, it is easier to string the lights and place the decorations when the weather is pleasant. Secondly, due to the mild weather, more people are going to come out and see the light display. This often motivates  people to go that extra mile when decorating their homes or business.
Holiday Lights in Glendale, AZ
The whole city of Glendale, Arizona gets involved in the festivities. They call it Glendale Glitters. The decorations continue for several city blocks. The Glendale Civic Center is draped from stem to stern in the latest in holiday light design. Have you seen the lights that twinkle downward on a sheet of strings that make them appear like snow falling? They have them there.
There will be weekends with special events and horse drawn carriages. The last few weekends there will be hot air balloons in the street. The city of Glendale may even truck some snow in for the kids to play. There is always musicians and artists.
Glendale has turned the holiday lighting season into a full fledged event.
Don't miss your chance to take in the lights in style.
Mirage Limousines Holiday Light Tours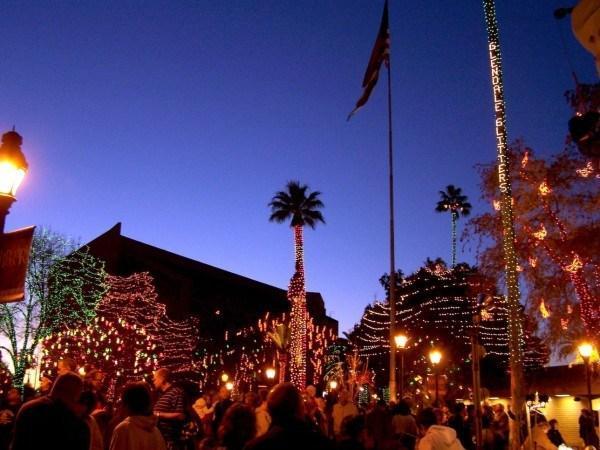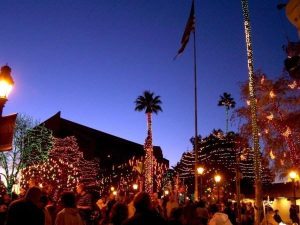 Book a Holiday Light Tour
Mirage Limousines has been doing holiday light tours for thirty years. Trust us to take you to the biggest displays and displays with the kind of novelty only scene in Arizona, like saguaro cactus's draped in lights. You won't see that too many other places.
Get More Info Here
If you are designing your own tour, then w have help for you here. All the best displays, all those little extras, find them all here. For more information check out our Holiday Light Tour page.
On the fence about this whole tradition? Read this blog post to see why this is the time to start a new tradition. You will be creating memories and a life. Make your tour easy as pie by booking a limo. Don't hassle with parking, nor with traffic.