It's back to school time. Don't groan. You're only young once.
Homecoming is right around the corner and it's time to celebrate. Let's your school spirit run high!
Homecoming events celebrate your school. Your school has history. It has former students (that is, those who have  graduated) who are called alumni, in the plural. There will be alumni sharing this time with you. Coming home.
It's a great time to catch up. Everyone will have tales to tell from their summer off.
Oh and the mayhem that will occur at Homecoming. Are you gunna miss that?
Homecoming events will start early in the month of September. This year, Go Big and go to the Homecoming dance in a limo.
Get your crew together! Renting Homecoming Limo Service means that everyone can travel together to Homecoming. Nobody will have to fight the traffic, the parking, the drunks on the road or anything else.
Imagine the whole trip you and your friends laughing and singing to your favorite songs. No fear because there's no distracted driver! Text your heart out and never fear getting in a crash!
Homecoming is Coming!
Homecoming is a chance to show your school spirit. Events will be planned all around campus from pep rally's to the big Homecoming dance. There will be alumni hanging around trying to recapture the glory of their High School years.
These are the days of our lives. We are all making memories, right now. When you look back on this year's Homecoming dance let it be one of those fond, special memories.
Make this Homecoming something to remember!
Things will change dramatically when you are out of school. Without that meeting place, who knows where you'll see your friends. Between work and family there's going to be less time to get together. Not like now, not like High School.
Enjoy this time while you have it.
Homecoming Limo Service Options:
Mirage Limousines has more limousines than any other limo company in Arizona. Hands down.
Mirage Limousines displays their vehicles to the public like no other Limousine company in Arizona. And perhaps in the country.
Every single one of our luxury vehicles are available for your inspection at 813 N Scottsdale Rd. Scottsdale, AZ. Nobody can say that. Nobody.
It super important that you see your vehicle before you book it. Don't be naive and think that this is not important. It is.
As you shop for a limo, ask the provider if you can come see it. If they say no, that should be a big red flag. If they say yes then go take a look.
While there take a look around. Do they have other luxury vehicles at this location? Is it an actual showroom or office?
Do they  have someone detailing the cars? Can you see a mechanic on premises? If not you may wonder how well maintained are their vehicles. If they do not have someone there day in and day out, do they detail their cars after every run?
If they don't have a mechanic on site, can you be sure the vehicle is in top working order?
Mirage Limousines limos are maintained in sparkling clean and top mechanical condition. How do we do it? We have our own detailing crew and our own mechanics. That's how. No one can say that.
Come see your car.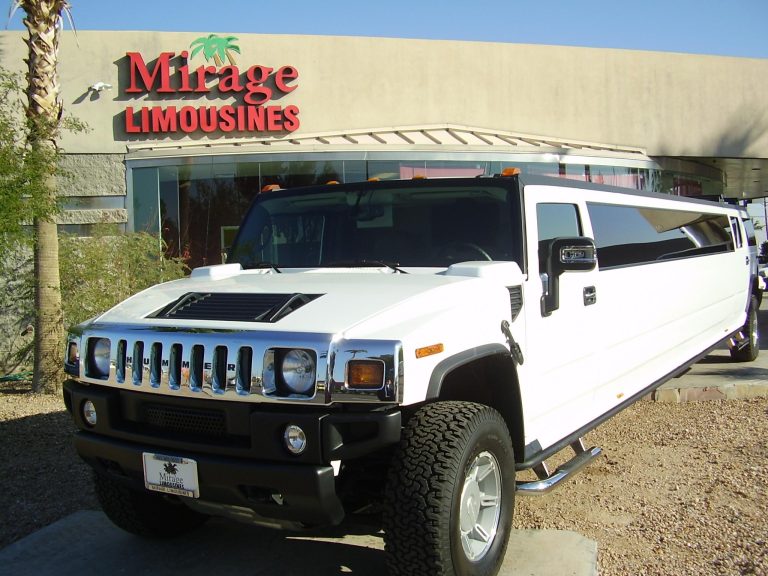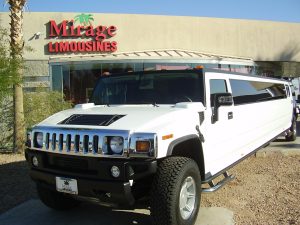 Hummer Limo
Hummer Limos are the most popular option when booking limo rental. They are modern looking. Plus their spaciousness makes them ideal for large parties. They are a popular alternative to the latest Party Bus craze.
Mirage Limousines has two Hummer Limos. One bigger than the other. These rugged giants are perfect to make a bold statement. Show up in this luxury vehicle built for adventure.
Hummer Limo Service will seat up to 24 people. Each Hummer Limo is designed to party. Fiber optic lighting surrounds the inside of this limo which is decorated with crystal and mirrors. This makes for quite a light show. Especially as the laser lights strobe and move across the seats and the occupants.
Your limo will surround you in the comfort of lavishly rich leather seats.  The limo's MP3/iPod connectivity provides superior sound.  The stereos are top notch and there are more speakers than should be allowed in any passenger vehicle.
Enjoy your music like you have never heard it before.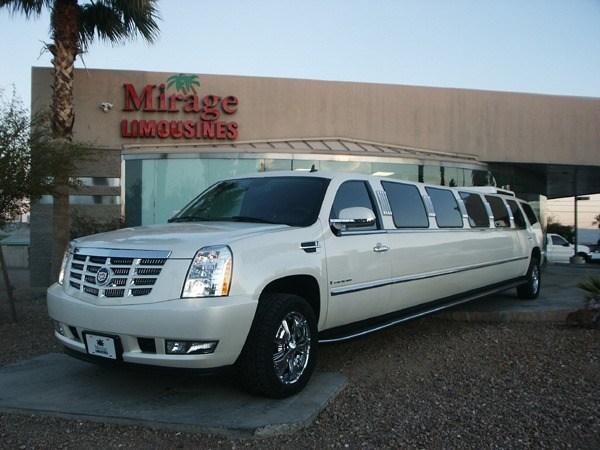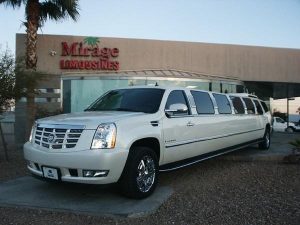 Escalade Limo
Everyone recognizes the name Cadillac. It is a name that evokes American quality. Around the world American automobiles are treasured by people who love cars. Cadillac is no exception.
Escalade is a name that means luxury. Our Cadillac Escalade limo gushes with quality and distinction. Arriving at the Homecoming dance in an Escalade Limo means you know a bit about quality.
Impress your friends and your date by suggesting that you all show up to the Homecoming dance together in this beautiful, luxury vehicle.
Mirage Limousines Escalade Limo comes equipped with:
20 inch rims with spinners
Superior CD surround sound
4 flat-screen TV's/DVD players
Fiber optic lit mirror and ceiling
Crystal bars
Lighted panel floor between seats
Starlight headliner
Exotic internal mood lighting
Yes we said spinners! This luxury limo is completely decked out. The floor lights up as does the ceiling. Everything about this limo sparkles, inside and out.
The sound system is top-notch. Crank it up and you will definitely be rattling the windows. And maybe the driver. People will surely hear you coming!
See more pictures of this Escalade limo here.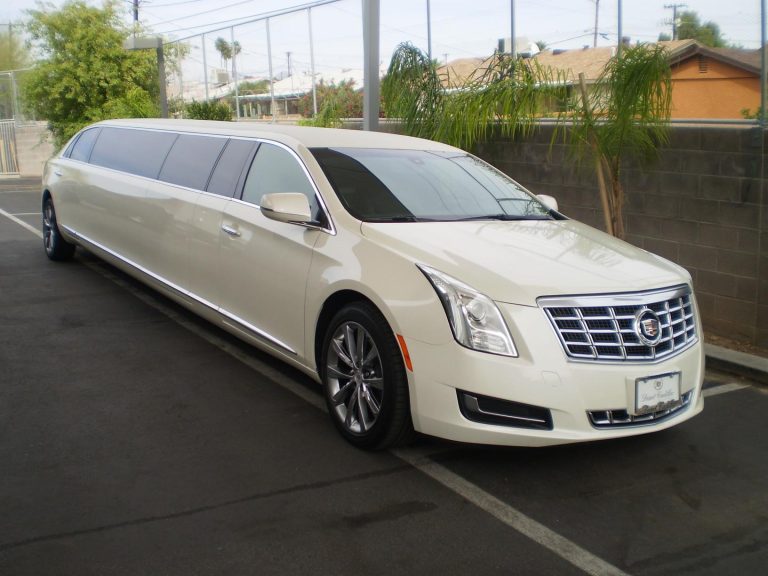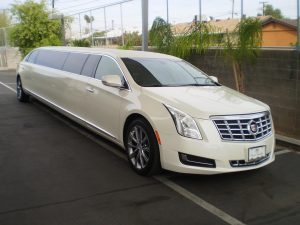 Cadillac XTS Limo
This is Mirage Limousines' newest limo. We went all out on this one.
First, it has a fifth door. This makes entering and exiting this vehicle a breeze. You will not find this feature on another limo in town.
Second, you will be surrounded in luxurious leather.
Then be amazed as you watch the fiber optic lights make the crystal and mirrors sparkle inside. Watch as specs of laser light twinkle around the interior.
The stereo system will rock the block. Sing along as loud as you like!
You should really see this car! Come by and see her at 813 N Scottsdale Rd. in Scottsdale, AZ. She's often inside. Yes inside the office. Check it out!
Navigator Limo
Lincoln Navigator Limo, need one say more? Who doesn't recognize the luxury of a Lincoln?
This luxury vehicle is equipped with the latest in audio equipment. The speakers will make the limo vibrate their so strong.
The inside is lit up like a nightclub. Light it up or tone it down, its up to you.
No one will be able to deny that you know luxury when you show up in this dream vehicle. The Lincoln Navigator Limo is in a class of its own.
Rolls Royce Limo
Saving the best for last, this Rolls Royce Limo is sure to cause a scene.
Mirage Limousines is the only one with a Rolls Royce Limo. Don't be fooled. Anyone can say they have a Rolls Royce Limo. Its not until you go see it that you'll know for sure.
Come see our Rolls Royce Limo at 813 N Scottsdale Rd, Scottsdale, AZ.
How many other limo company's invite you to come see their vehicles?
Not many.
Maybe you would rather travel to the Homecoming dance in a Homecoming Party Bus. Check them out here: Mirage Limousines Party Buses.
See the few remaining limos and all of our executive cars on our Fleet page. No one has more luxury vehicles than Mirage Limousines. We definitely have something to suit your needs.