Get your party bus before they run out! There is a limited supply. Few transportation companies offer this type of very specialized luxury vehicle.
Party buses are super fun. They are like a roving nightclub.
All of our party buses have laser lights, just like a nightclub. Fiber optic lighting sparkles off all the mirrors and crystal.
The sound systems are so incredibly loud that you will be out of your seat. Which is fine since party buses have dance poles. So get out of your seat and dance!
What is it About Homecoming?
In general, school and celebrating don't seem to go together. Unless you are celebrating the end of school or lunch. So when your school encourages you to party you just must do it!
Fun is good. Can you believe it? Your school is telling you that fun is good. Jump on it!
Homecoming is a tradition. It honors the history of your school. Traditions are an opportunity to build strong, positive memories.
Homecoming welcomes past graduates back to school. It also celebrates the beginning of the football season. Lastly, it welcomes you back to school.
You want fond memories of your school years, here's your chance.
Go on, make some memories.
Homecoming Party Bus Rental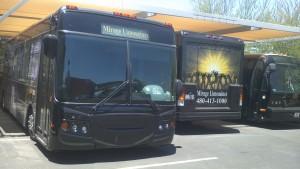 Mirage Limousines has more party buses than anyone in Phoenix!
We always recommend that you see your vehicle before you book it. If you want the biggest and the best you need to come here.
Our showroom is located in lovely Scottsdale, Az at 813 N Scottsdale Rd. We keep our vehicles at our showroom. So come by and see your party bus Mon-Fri from 10 am to 5 pm. On Saturdays our showroom is open from 9 am to 6 pm.
Take a look around. Ask to have the lights turned on. You can even ask to listen to the stereo system. Be prepared to be wowed.
You In A Party Bus
You and your friends are not going to believe this ride! Get ready to experience booming stereo, sparkling crystal and mirrors, flashing lasers and blinking fiber optics.
There are TV screens inside so if you want to dance to your favorite video you can.
Maybe you just want to run a classic cult film in the background for ambiance. Rocky Horror Picture Show might be fun in the background. Or maybe something from director Jim Jarmusch or David Lynch.
You are creating your own celebration on top of your school's Homecoming celebrations. Add a flair of your own to this event.
Add a Party Bus to what is sure to be an amazing night!
Five Sizes Available
This night is going to be epic.
Gather as many friends as you wish. We definitely have a party bus for you.
Only have 25 friends? That's OK sweetheart. We have something for you. Got a mad crew of 65? Now we are talking. Yes we do have the ride for you.
Sixty-five Passenger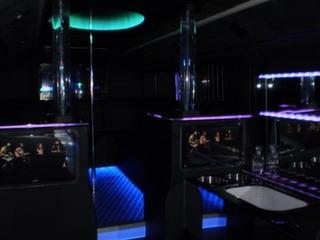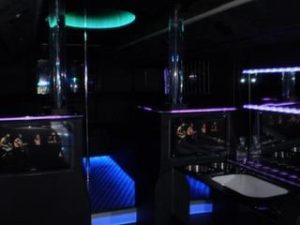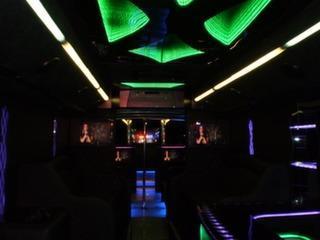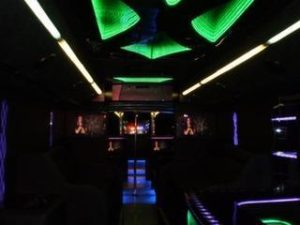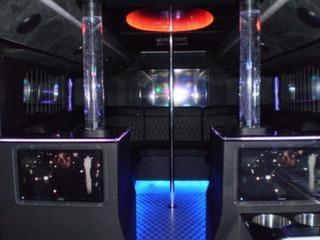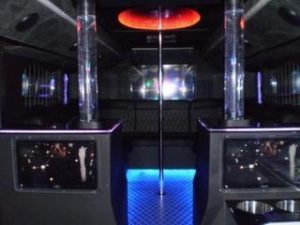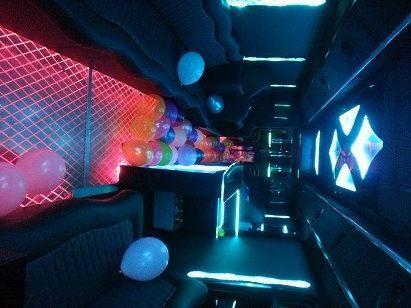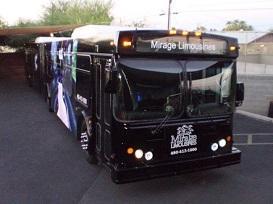 You and your friends are going to love this party bus. This is the largest luxury vehicle available in the valley of the sun. Hands down.
This party bus is so big that it bends in the middle. It has more dance poles, more speakers and more flashing lights than any other. It comes with all the accouterments, crystal and mirrors, water and ice.
This is our newest party bus and we couldn't be prouder. No one decks their vehicles out like we do. Please shop around. You will come back. We're sure of it!
Imagine you and sixty-five of your closest friends dancing and singing inside this super huge luxury vehicle.
See our page dedicated to this beauty here.
Fifty-five Passenger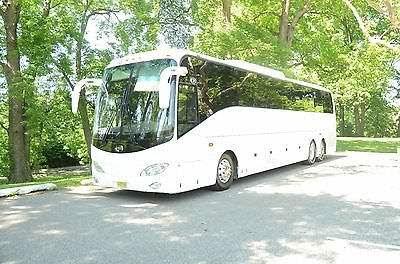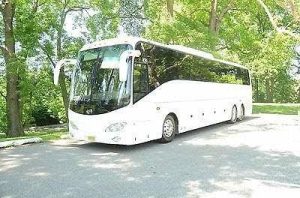 You are going to love this party bus. The only one in white. Perfect for a group up to 55. Bachelor parties and your whole wedding party is going to fit in this bus.
Keep everyone together.
Keep the party going.
See this 55 passenger party bus here.
This limousine party bus features:
State-of-the-art sound systems, Surround Sound Stereo and i-Phone Hookup
Huge TV's, with DVD players
Mind bending fiber optic lighting and laser lites
Crystal and mirrors  sparkling everywhere
Crystal Stand up Bars
Leather Seating
Dance Poles
Forty-five Passenger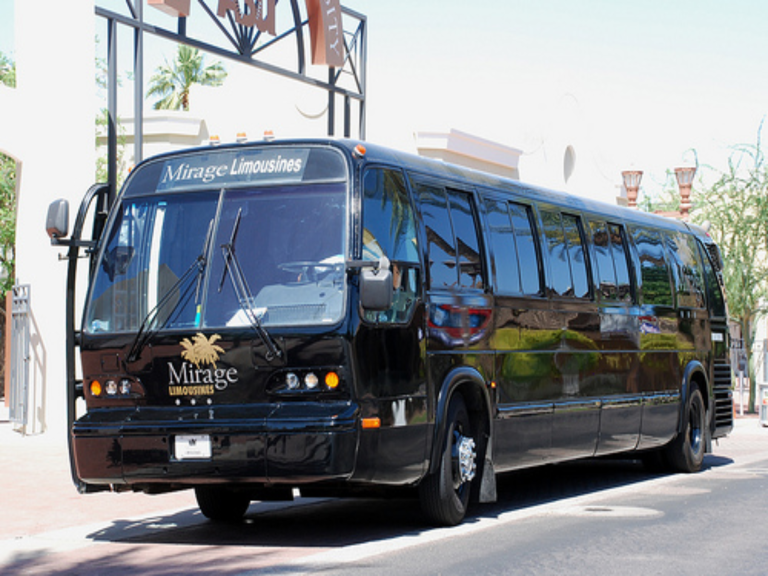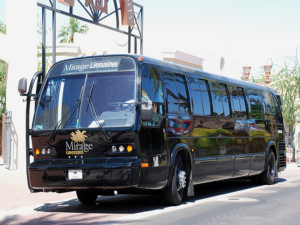 This popular luxury ride is for your a more intimate crew. That is if you consider 45 people to be an intimate crowd. Forty-five people can dance inside this bad boy.
Poles have been provided to keep you steady.
Singing at the top of your lungs is recommended. No one can here you because the speakers are just way too loud.
Inside you will find all the accouterments, sparkling crystal and mirrors, water and ice. The lighting will dazzle with fiber optic and laser lights. It is truly a nightclub on wheels.
Swing by and see her at our showroom in Scottsdale. Visit her page here.
Thirty-five Passenger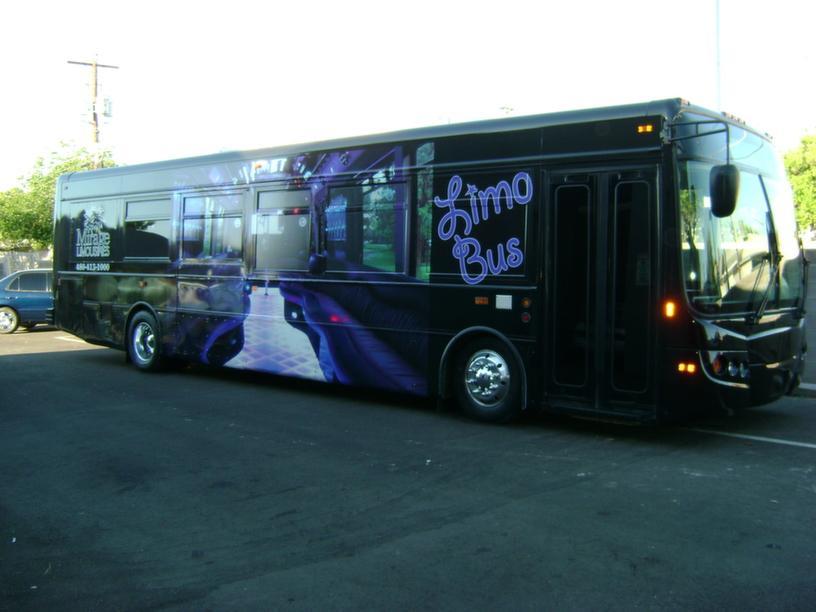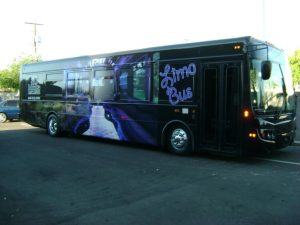 This could be by far our most popular party bus. It will hold thirty-five people dancing and singing like nothing you've seen before.
This is the dance before the dance!
Every party bus comes with all the accouterments, crystal and mirrors, water and ice.
This vehicle has video since it's very popular with the Quinceanera crowd. Watch these kids dance and sing in your party bus.
Twenty-five Passenger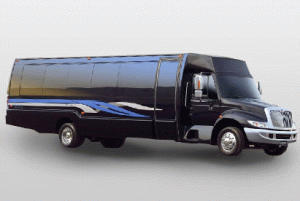 Our smallest party bus will seat twenty-five. It is still fun. It has all the lights. The stereo system is louder than seems possible.
There's dance poles and all the accouterments, crystal and mirrors, water and ice.
Come by and see your party bus. You are going to love it.
Visit Mirage Limousines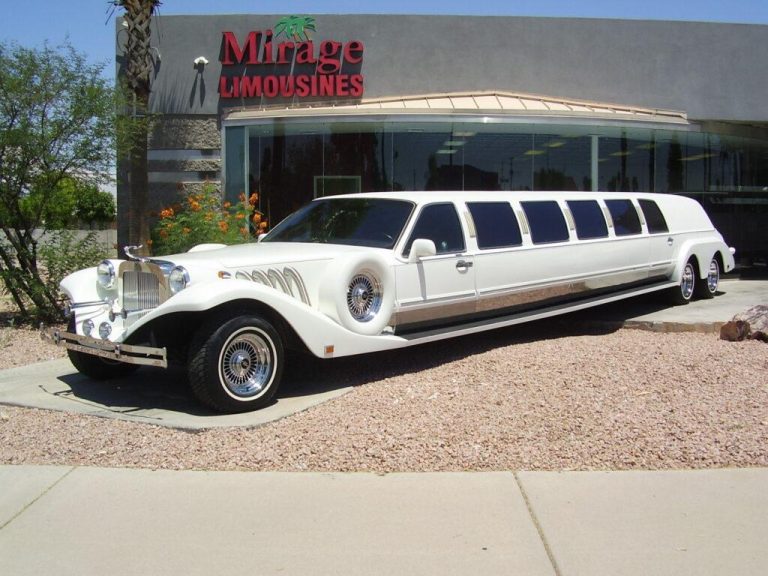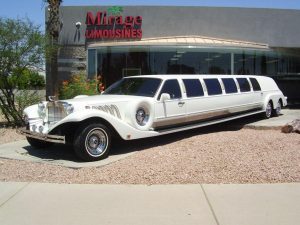 See it before you book it!
Go kick the tires. Turn the lights on inside and crank up the jams. Not all party buses are created equal. Go see what's out there so you are sure to get the most bang for your buck.
All party bus companies are not equal. Few have an actual office that you can visit. Even fewer have a showroom.
In fact, no one has a showroom like Mirage Limousines!
Mirage Limousines
813 N Scottsdale Rd
Scottsdale, AZ 85257
(480) 970-7700
Showroom Hours:
Mon-Fri 10 am – 5 pm
Sat 9 am – 6 pm
Call Anytime 24/7
Perhaps you would like a Homecoming limo instead. Mirage Limousines has every type of limo you can imagine. Want a Cadillac? We have an XTS Limo and an Escalade limo.
Want a Hummer limo? We have two.
Visit our fleet page to see all of our luxury vehicles.