Get your Homecoming party bus here. Homecoming is more fun in a party bus. Mirage Limousines wants to be your source for Homecoming party buses.
Have More Fun with a Homecoming Party Bus
Its hard to imagine homecoming being any more fun than it is. But imagine the fun of arriving at the Homecoming dance in a party bus filled with your best buds.
Homecoming differs from prom in many ways. First, Homecoming is less formal than prom. Then there's the fact that Homecoming is at the beginning of the school year. Whereas, prom is at the end.
Homecoming is the start of something. Prom is the end.
What is Homecoming?
A football game is at the center of Homecoming.  Events are planned around this big game. These events can include spirit weeks and pep rallies, parades, speeches and of course a Homecoming dance. The events are all intended to unite alumni and students to create a stronger sense of school pride. Typically they are wildly successful.
History of Homecoming
Brief History of Football
Since Homecoming revolves around a football game it seems appropriate to include a little history of football.
Football today is not the same as the football played in the early 1900's. The NFL states that the earliest games of football were based on soccer and not rugby. And it was a very dangerous game.
 In 1908, 33 football players were killed on the field. Between 1910 and 12 more protective padding was introduced. This helped reduce the death and injury toll. Other changes made at this time included the addition of a fourth down, and the six point touchdown.
Homecoming is Born
It may seem hard to believe but Homecoming only started in the early 1900's. Amazingly there is even a competition for the title of "Birthplace of Homecoming."
The University of Illinois used to claim the title of first. They had had an event with football and alumni in 1910. But after further review they had to change that claim. Now they only say they have the longest running Homecoming celebration.
The University of Missouri-Columbia , or Mizzou, is actually the trivia question winner. They started celebrating homecoming in 1911. Although they weren't really the first, if you ask Jeopardy! or Trivial Pursuit, they say Mizzou was first. Perhaps its because they were the most vocal about their 1911 Homecoming event. This Mizzou Homecoming event has, in fact, been repeated ever since.
But the honor actually goes to Baylor University, a private school in Waco, Texas. They invited alumni home for a football game in 1909. But they didn't call it Homecoming. They called it Good Will Week. They also did not repeat the event for several years. This and the smallness of the school may have all played a part in Baylor not being credited with this honor.
Homecoming Etiquette
Homecoming is a time to cut loose. Its filled with the excitement of the beginning of the school year. Beginnings offer opportunities. There is the mystery of what the following school year has in store. And everyone loves a mystery, right?
Homecoming fashions are less formal than prom. Girls wear cocktail dresses instead of a formal gown. Cocktail dresses are commonly shorter in length.
Boys still wear a shirt and tie to Homecoming, much like prom. At prom a boy wears a suit. But suits are not a necessity for Homecoming. Boys may, or may not wear a suit coat.
Students may attend the Homecoming dance with a date. But more often boys and girls travel to the dance as just friends. This is an important distinction.
On a date, boys are still responsible for most of the costs. These can include the cost of dinner, the ticket price, and transportation. Homecoming may also include flowers. Some schools have a tradition of mums and garters.
This is a huge tradition in Texas. Girls wear a mum to the Homecoming dance, boys wear a garter.
The bigger the better as is true of everything in Texas. It is a sign of love to have a large "mum." Mums are worn on the chest, perhaps hung around the girl's neck.
Mums can include ribbons and flowers, usually silk flowers. Garters are worn on the boys arm and will include ribbons as well.
Traveling to the Homecoming dance as "just friends" means the girl should be prepared to split the costs of the event. Clarifying this distinction before-hand is important. Just in case, girls, you should always be prepared with a little stash of cash.
It's common for students to just travel in groups to Homecoming. Often girls, or boys, will travel together in a pack. This is quite different than prom where students travel to prom together as groups of couples.
Mirage Limousines' Homecoming Party Buses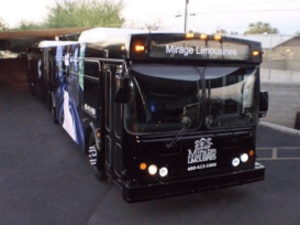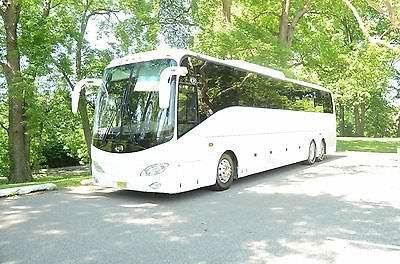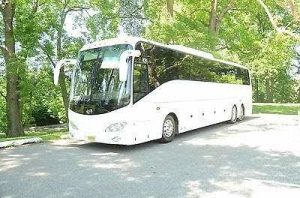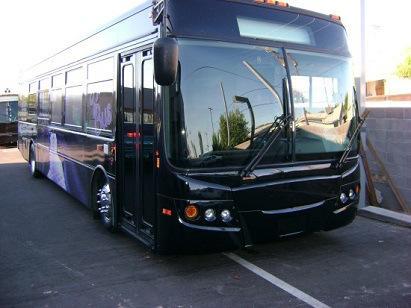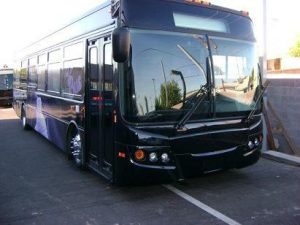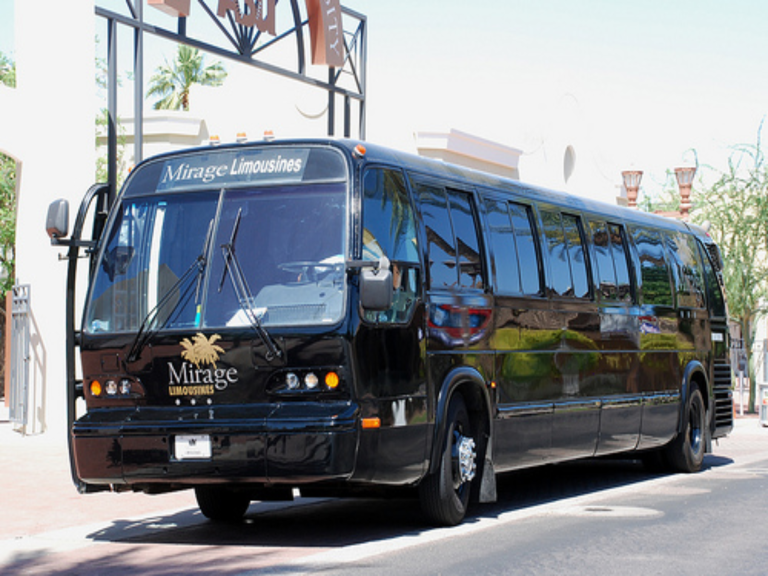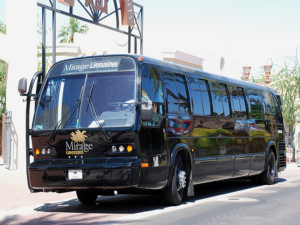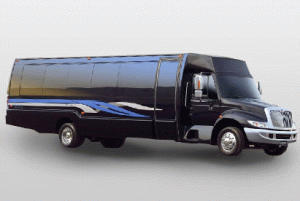 Homecoming Party Bus Rental Phoenix for 25 to 65 Passengers
Mirage Limousines has the largest selection of Homecoming party buses, or limo buses, for rent in Arizona. You can be sure to find a Homecoming limo bus that fits your needs perfectly.
The smallest Homecoming party bus that Mirage Limousines has will hold up to  25 people. This does not mean you have to have 25 people. In fact, 25 is the limit. So you may want fewer than 25 just so you and your friends can spread out and enjoy yourselves.
Party buses are made for partying. With dance poles and laser lights, you will feel like you are at a nightclub.
Dance to your favorite music as you drive down the road. Spin and twirl in the sparkling lights. You definitely are going to need some room to cut loose. So plan on booking a bus that is a little bigger than you absolutely need.
The largest Homecoming party bus at Mirage Limousines is a seventy footer. Yes that's right, seventy feet long!
This Homecoming party bus holds up to 65 people.
It is the largest party bus in the state.
This 70 footer, is so long it has to be articulated, or made to bend, in the middle.
No one in Arizona has a bigger Homecoming party bus!
In between we have a Homecoming limousine/party buses for up to 35 people and one for up to 45 passengers.
Each Homecoming party bus comes equipped with:
State-of-the-art sound systems
Huge TV's
Mind bending fiber optic lighting and laser lites
Crystal and mirrors  sparkling everywhere
And more
We spare no expense on all our vehicles. In order to get a complete idea of what you'll be renting, you really need to come to our showroom in Scottsdale (813 N Scottsdale Rd). There you will see all of our limousines and party buses. Plan to be amazed.
No matter who you rent from, see it before you book it. Anyone can say they have a party bus. But can they prove it?
How to Rent a Party Bus
Renting a party bus shouldn't be a hassle.
Follows these simple steps to have the best Homecoming party bus experience.
First you need to know how many people you want in your party bus. Party buses come in different sizes and part of the cost of your Homecoming arty bus will be based on size.
Next, where will you be picked up and where are you going? Most party bus companies have a service area. If you need to go outside of that service area you may have to pay extra.
How long will you need your Homecoming party bus? Expect that the party bus company will have a set minimum. So plan on at least paying for this minimum number of hours which can vary from between 3 and 6 hours.
Finally, find out where you need to go to see your party bus. DO NOT RENT WITHOUT SEEING IT FIRST! Pictures on the Internet are not enough.
If you follow these simple steps you are sure to have  pleasant Homecoming party bus rental experience.
Mirage Has Limousines
Mirage Limousines also has limousines. Duh, right?
Yes, its true Mirage Limousines has more party buses than anyone else. But we also have more limousines than anyone else.
For example, Mirage Limousines is the home of the only Rolls Royce limousine in the valley. Based on the 1939 Rolls Royce, this baby is a real looker.
Smaller than a party bus, a limo might be just the ticket.
If you can't round up more than ten friends or so, then a limo is perfect.
We also have limos from Cadillac like the Escalade and the XTS. The Cadillac XTS is our newest limo and it has a fifth door for ease of access.
And that's not all. So make that call (480) 970-7700. Swing by 813 N. Scottsdale Rd, in Scottsdale, AZ. Your Homecoming transportation is almost handled.