Get Your NASCAR Limousine Service & Party Bus Rental Here
Get Out and Enjoy NASCAR
If you have not attended a race at ISM Raceway, then now is the time.
NASCAR Activities
NASCAR is hugely popular here in the Valley of the Sun. NASCAR fans camp out for days at ISM Raceway. During that time, the area around the race track becomes like a small village. Everything you could possibly need is there including a complete grocery store.
Some of the festivities will be provided by Budweiser, who is setting up what they are calling a ROLL-BAR. The ROLL-BAR will have alcoholic beverages and live entertainment. Attendance to the ROLL-BAR is restricted as noted. "Live entertainment on the Budweiser ROLL-BAR main stage and access to the custom Budweiser ROLL-BAR Beer Garden is available to all grandstand ticket holders."
Rules for NASCAR at ISM Raceway
Want to know what you can bring into the race? This information comes straight from the ISM Raceway website:
Fans are allowed to bring in one each of the bags described below. All items brought through a grandstand gate will be inspected.
One soft side bag/cooler, no larger than 14″ x 14″ x 14″: Examples include: a soft-sided insulated cooler, a scanner bag, a fanny pack, a purse, a diaper bag, or a binocular bag, etc. This one bag may be carried in any manner, i.e. by handle, with shoulder straps, on a belt, etc. The soft-sided insulated cooler may contain ice.
One clear plastic bag, no larger than 18″ x 18″ x 4″: This bag is intended to accommodate samples received and purchases made after fans have parked their cars. Clear plastic bags may not contain ice.
One lightweight backpack, daypack or clear backpack, no larger than 18 inches in length.
 Binoculars, scanners, headsets, cameras, not in a bag, worn separately over the neck or on the belt and seat cushions carried separately are also allowed.
 Seat cushion bags with compartments will be reviewed on an individual basis and cannot contain hollow tubing.
NASCAR Limousine Service & Party Bus Rental
The big wigs who attend the ISM Raceway race like to arrive in a helicopter to the track. What? You can't afford a helicopter? Or maybe they are all booked up. That is ok.  We've got the next best thing, over twenty luxury vehicles available to service NASCAR and ISM Raceway.  We would be thrilled to be your source for NASCAR Limousine Service & Party Bus Rental. Let us tailgate with you.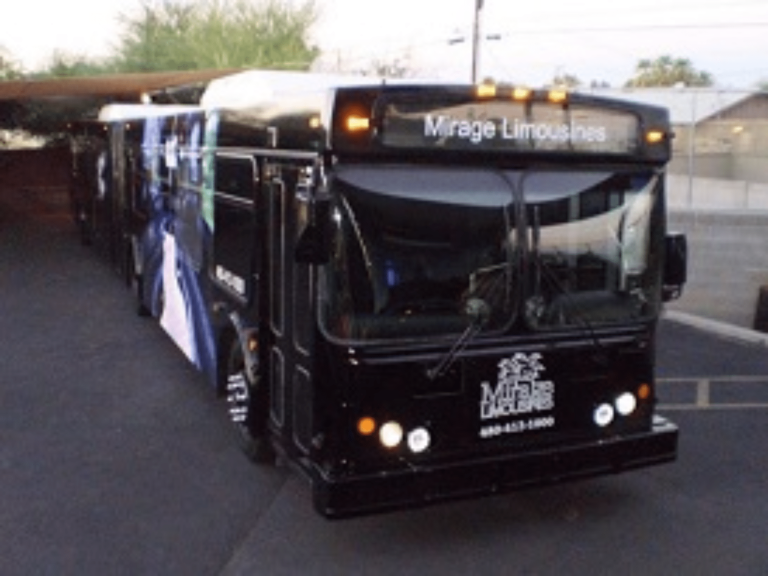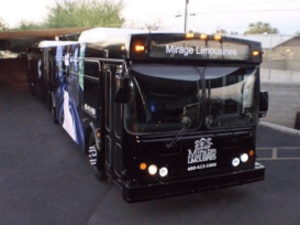 Consider renting a party bus to carry you and twenty or more friends to the race. Turn on the light show inside. Blast your favorite music and dance all the way out to the track. Or watch highlights from previous races on the big screen TV's. It doesn't get any better than having your own powerful sound system, a group of your best friends and ice and drinks to last the night.
Imagine rolling up to the races in a Rolls Royce Limo. You don't want to go to the races with twenty friends? We still have you covered. Who needs a helicopter? This beauty is deluxe. Crystal and mirrors make this darling glitter. The available light show will put you on another planet.
Forgo the parking headache. Don't fight the crowds in or out of this race. Sit back and let our driver handle all that for you. While you have a drink in your hand our driver will negotiate the crowds and the traffic. Relax. Put your feet up. Why should an exciting event like NASCAR have to end in a big headache while you fight to get out of the parking lot? It doesn't have to if you let Mirage Limousines, NASCAR Limousine Service & Party Bus Rental, do the driving.
NASCAR Bonus Tip
For those of you who made it all the way to the end of this blog post we want to reward you with a really good race track tip we found over at Laid Back Racing. Although they are writing about a different track over at Laid Back, much of the information relates. For example, they offer this tidbit for taking a picture of your favorite driver:
 **LAIDBACK RACING TIP**:  Drivers have excellent peripheral vision.  I usually stand quietly with the camera up to my eye & just wait patiently.  Every single driver whom I've done that to has stopped signing autographs to look up at me and smile.  They realize that I was standing patiently and not yelling out to them to look up.  They really appreciate that since the way some fans treat them is disgusting.  I would much rather have the photo I have of Happy Harvick joking with me than a scribbled autograph that a million other fans have and no one can read.