The CFP National Championship will be held in Glendale, AZ Monday, Jan. 11, 2016. We are excited to be hosting such an important game.
Mirage Limousines has some of the best party buses in the state. Tailgating in a party bus is an amazing experience that you just have to try for yourself. Our largest party bus will hold up to 65 people. Imagine celebrating the CFP National Championship with 64 of your closest friends.
More about that later. This blog recaps the bowl games and gives you an idea of what to expect from the upcoming championship game.
If you don't have your tickets get them here: CFP National Championship Tickets
Activities are planned all over the Phoenix metro area. This previous blog post highlights the CFP National Championship festivities. If you haven't read it, please check it out. It provides details about fireworks displays and live concerts and more. All to celebrate this big event in college football. Check it out here.
Clemson and Alabama
The teams for the championship games have been decided. Playoff games were held on New Year's Eve.
Clemson crushed Oklahoma and Alabama beat up Michigan State. Sadly the Cotton Bowl, with Alabama and Michigan State, was a blow out. Those are never fun to watch, unless your team is winning. However that does not necessarily reflect on the championship. Clemson is not expected to fold like Michigan State did in their bowl game.
With the play offs as any indicator, the championship game is going to be exciting. The bowl games were both high scoring games, both of the winning teams scored numerous times in their playoff bouts. Expect a championship filled with continuous drives for the goal.
Alabama is favored but Clemson's not out of it yet. Take a look at some of the bowl game highlights. If they are any indication this CFP National Championship is going to rock!
The Orange Bowl Recap
The Orange Bowl pitted No. 1 Clemson against No. 4 Oklahoma. Clemson won it 37-17 turning in a performance that dominated on both sides of the ball.
Although Clemson was trailing 17-16 at halftime, the Tigers outscored Oklahoma 21-0 in the second half. The Sooners only rushed for 67 yards, or 2.03 yards on average. The Sooners also spent much of the second half limping off or being helped off the field.
The players to watch in the upcoming championship include Clemson's quarterback, Deshaun Watson, running back Wayne Gallman and  defensive end Shaq Lawson.
Watson, a Heisman nominee this year, was responsible for some big plays in the Orange Bowl. Although he was not precise, his running and passing proved too much for Oklahoma.
Sophomore running back Wayne Gallman made a fine showing at the Orange Bowl. Expect more of the same during the championship game. His running played a part in wearing Oklahoma down.
Clemson All-American defensive end Shaq Lawson was missing from the Orange Bowl after suffering a left knee injury in the Tigers' semifinal win over Oklahoma. He is expected to play in the College Football Playoff National Championship and is weapon to be watched.
Keep an eye out for a little trickery. Clemson Tigers punter Andy Teasdall is gaining quite a reputation for faking punts. It didn't go so well against North Carolina in the ACC Championship. Coming up short he gave North Carolina the opportunity to pull ahead. He also opened his self up to a calling out on camera from Clemson coach Dabo Swinney that has since gone viral.
However, Teasdall was able to redeem himself at the Orange Bowl. Early in the second quarter, on fourth-and-4 from the Oklahoma 44, the Tigers faked a punt.This time the fake punt worked and Teasdall is a hero.
If all that does not make you want to watch this championship game then read on. We haven't even discussed the CFP National Championship's favored team, Alabama.
Clemson will face Alabama, the winner of the Cotton Bowl semifinal, at the CFP National Championship on Jan. 11 in Glendale, Ariz.
(Source: http://www.usatoday.com/story/sports/ncaaf/2015/12/31/orange-bowl-clemson-defeats-oklahoma-college-football-playoff/78146286/)
Cotton Bowl Recap
The Cotton Bowl was a contest between No. 2 seed Alabama and No. 3 seed Michigan State. Alabama won 38-0.
If the championship is anything like the Cotton Bowl, Alabama quarterback, Jake Coker, will be exciting to watch.  For his Cotton Bowl performance he completed 25 of 30 passes. He threw for 286 yards and for two touchdowns.
Coker and his receiver Calvin Ridley practically created their own highlight reel at the Cotton Bowl. Responsible for a couple of amazingly long plays. One of which that may be considered the best touchdown catch of the season was counted thanks to an overturned review.
This Alabama team promises excitement. If the Coker-Ridley connection remains strong then Alabama's offense will be terrifying in the championship game. This Alabama offense was unstoppable in the Cotton Bowl, even against a very good defense.
The Crimson Tide also tallied four sacks in the Cotton Bowl. They bullied Michigan State's quarterback and offensive line. They set the tone up front, exactly what they've done to opponents all year.
Expect more of the same as Alabama takes on Clemson at the CFP National Championship on Jan. 11 in Glendale, Ariz.
(Source: http://www.usatoday.com/story/sports/ncaaf/2015/12/31/cotton-bowl-final-takeaways-college-football-playoff-alabama/78163630/)
Alabama-Clemson CFP National Championship Predictions
Alabama is favored but Clemson's not out of it yet. Consider these tantalizing items.
Clemson's head coach Dabo Swinney said he used Alabama as a template when developing his own defensive line.  Coincidentally Alabama is Swinney's alma mater. Having earned a football scholarship to Alabama, he played when Alabama was the 1992 national champions. He also earned a degree in commerce and business administration. That said, Swinney has the experience to dissect the Alabama team. Just what Clemson needs.
Plus, Tigers quarterback and Heisman Trophy finalist Deshaun Watson is a great talent with big-play tendencies. Just the type of quarterback that has been beating Alabama in recent years. Watson is more than capable of putting points on the board in the passing game, should Alabama shut down Clemson's rushing attack.
So don't call this game over before it has even begun. Instead, brace yourself for the game of the year!
You Are National Championship Tailgating Now
Mirage Limousines wants to be your ride to the game. We have over 27 years of experience with major sporting events. We know all the ins and outs of these kind of top-notch events.
In fact, here's a tip: Once you are in the stadium parking lot, there is no getting out. That is because if you go out, there is no way to get back in. Don't chance it!
Trust us to know this kind of thing as well as what you can and cannot bring in to the stadium. We know the tailgating rules. And we know all about any special Party Bus parking passes you may need.
Mirage Limousines' Limos
Choose from limousines like Hummer and Cadillac. You can book a limo sedan or the ever popular SUV limo. All of our limos can be found on this page.
Limousines come with top of the line audio systems. They light up with fiber optics and laser lights. Crystal and mirrors shine all around the vehicle.
Many have floors that light up at well. Adding to the festive ambiance.
Mirage Limousines' Party Buses
Trust Mirage to have the most beautiful party buses. We have many to choose from in different sizes. Our party buses are larger than our limos. So if you have a large crew, this is the vehicle for you.
In a party bus you and your guests can stand up. It may be hard to sit in all the excitement. Even if your crew is not that large, you may still want a party bus. They have dance poles and dance floors.
The audio system is stunning and the light show is over the top. No one goes to the expense Mirage Limousines does to create the perfect luxury transportation experience. See them all here.
You deserve a DD. Let us get you home safely.
Mirage Limousines Commitment to Excellence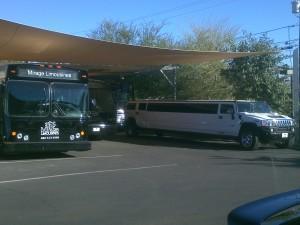 No one will take care of you like we will. From the moment you enter the showroom to the moment we deliver you back to your home.
Our in-house staff is right now preparing your vehicle. It is being polished and tuned. Every light bulb is checked, every crystal champagne flute shined. We have in-house mechanics and detailers. Swing by the showroom and you will see them hard at work.
Mirage Limousines has gone to the extra expense of opening a showroom on Scottsdale Rd just so that you can come and see your vehicle before you rent it.
No other Limousine Service/Party Bus Rental company can say that, no one.
Mirage Limousines goes the extra mile.