Ring in New Year with National Championship Festivities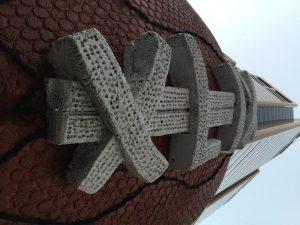 Phoenix knows how to celebrate football, we're all still hung over from our Super Bowl party. What a blast! Get ready for this New Year's CFP National Championship festivities.
This New Year's celebration in Phoenix, AZ will Include CFP National Championship festivities. Top bands will be putting on free concerts in downtown Phoenix. Teams and mascots will converge on the convention center. The celebration and electricity will last the whole weekend leading up to the big game. Expect fireworks. Really.
This extravaganza will be hosted by AT&T and much of it again occurs in the heart of downtown Phoenix. Help us close out this year's college football season here, in sunny Phoenix, AZ with something for everybody:
From Meet and Greets to Concerts
From Face Painting to Carnival Food
Family Friendly and Night Life Ready
Good Old Cowboy Hoedowns and High-style, Flashy Uptown
The celebration will rival the one we put on for the Super Bowl of 2015. Dallas hosted the first College Football Championship last year, and the organizers looked to influences from the Super Bowl, NCAA Final Four and the Olympics to create its own unique set of events. This is the first time an outdoor concert series will be part of the line-up.
The College Football Playoff (CFP) National Championship will be held at Glendale's University of Phoenix Stadium, Monday, Jan. 11, 2016, the site of the Fiesta Bowl and home to the Arizona Cardinals.
As of this writing, none of the teams have been set. So we can't tell you that bit of juicy information. Instead we are going to tell you what we do know up to this point, as the tension begins to rise.
We want to be your ride to the celebrations and to the game.
Save yourself the headache. Tailgate in a party bus.
College Football Playoff Selection
As mentioned, teams have not been selected, as of this writing. If you would like to watch the selection process it will be on ESPN Sunday December 6th.
They'll announce the playoff semifinal pairings and site assignments live starting at 12:30 p.m. ET. Then at 3 p.m. ET, they will announce the final top 25 rankings of the season. In addition, the pairings for the Rose Bowl, Sugar Bowl, Fiesta Bowl and Peach Bowl will be announced. (Source: http://www.collegefootballplayoff.com/)
New Year's & CFP National Championship Festivities
There are five events planned around the CFP National Championship. Begin your day at the Phoenix Convention Center for Playoff Fan Central . End your day at the AT&T Playoff Playlist Live with a free concert.
Each of these five events provide a unique opportunity to get involved in the Championship festivities. AZ Organizing Committee chair Brad Wright, who attended last year's championship in Dallas, said the AZ event will be "even better" and pledged that "the four-day celebration will have something for everyone."
Tickets for various aspects of the fan experience are already on sale, and range in cost from $0 to upwards of $250, depending on the event. ESPN will broadcast live from downtown all weekend, and fireworks shows will occur nightly.
Don't fight the traffic. Don't fight for parking. Just show up and have fun.
Let Mirage Limousines take you there.
1. Playoff Fan Central
The Playoff Fan Central event is a multi-day festival that will include:
Interactive Games
Sponsor Activities
Special Guest Appearances
Exhibits Celebrating College Football
Playoff Fan Central will also feature appearances by the participating institutions' bands, cheerleaders and mascots and mini pep rallies for each participating team. On Saturday, attendees will have the opportunity to watch media day live, as student-athletes and coaches from both teams participate in interviews on the special 50-yard football field.
Where:
Phx Convention Center
100 N. Third St
Phoenix, 85004
When:
Friday, Jan. 8, 3 – 8 p.m.
Sat, Jan. 9, 7:30 a.m. – 8 p.m.
Sun, Jan. 10, Noon – 8 p.m.
Price:
$12 for adults.
$7 for children, students, seniors and military.
$5 for groups of 20 or more.
2. AT&T Playoff Playlist Live!
Every evening downtown becomes a venue to enjoy music from a top national musical act:
Country music trio The Band Perry kicks things off on Friday with Grammy-nominated David Nail.
Grammy award-winning R&B singer Ciara will headline Saturday night, with pop rock darlings Walk the Moon also performing.
Rock and Roll Hall of Fame inductee and Grammy winner John Mellencamp will close out the weekend on Sunday, along with singer-songwriter Andy Grammar and progressive rock band Moon Taxi.
Finish off the day with a concert in the park. Friday through Sunday enjoy a free concert on the corners of First to Second streets between Washington and Jefferson streets. You can't miss it!
A virtual playlist for every segment of the population that makes up the college football fan base! In 2016, AT&T Playoff Playlist Live! will be held in downtown Phoenix. The free, outdoor concert series will take place during championship weekend and will feature a variety of national recording artists.
Where: First to Second Streets
between Washington and Jefferson StreetsWhen:Friday, Jan. 8
(Gates open at Noon)
Sat, Jan. 9
(Gates open at Noon)
Sun, Jan. 10
(Gates open at Noon)Band(s):The Band Perry and David Nail
Ciara and WALK THE MOON
John Mellencamp, Andy Grammer and Moon Taxi
GRAMMY Award-winning sibling trio The Band Perry have proven an unstoppable presence in music, matching their major critical acclaim with massive mainstream success, with a string of #1 hits and playing sold out shows around the world. They are currently working on their third studio album.
GRAMMY-nominated MCA Nashville recording artist David Nail, released his third album, I'm A Fire, to massive acclaim, landing on 2014 BEST OF lists on Rolling Stone Country and Billboard.  "Whatever She's Got," was a No. 1 certified PLATINUM hit and was named one of the top 3 country songs of 2014 by Billboard.
Ciara is a GRAMMY Award-winning singer, songwriter, actress and producer has sold over seven million albums and 16 million singles worldwide. She has 27 charted singles including "Goodies," "Ride," "Oh," "1 2 Step," and "Body Party."
Alt pop rockers WALK THE MOON have dominated 2015 with their triple platinum smash, "Shut Up and Dance," which spent 22 weeks in the top 10 at alternative rock radio and 4 consecutive weeks at #1.
John Mellencamp is one of the most highly regarded singer-songwriters of a generation. He is a member of the Rock and Roll Hall of Fame, a GRAMMY Award-winner and co-founded Farm Aid.
AT&T Playoff Playlist Live! is a free, outdoor concert series that will take place Friday, January 8, through Sunday, January 10, in downtown Phoenix, near the convention center. Nightly fireworks shows will also highlight the festivities.
Don't fight the traffic. Don't fight for parking.
Let Mirage Limousines take you there.
3. Extra Yard 5K
Need one say more? Are you ready? 
Race through downtown Phoenix, with proceeds benefiting the Extra Yard for Teachers program and the College Football Playoff Foundation.
Overall male and female winners will each win two tickets to the 2016 College Football Playoff National Championship; all registrants will be entered to win a pair of tickets to to the national championship game.
Do you love to compete?
Where:
Downtown Phoenix
When:
Sunday, January 10, 2016 at 9 a.m. MT
Price:
Pre-registration fees start at $25
On-site registration available for $35
Don't fight the traffic.
Don't fight for parking.
Just show up and run.
Let Mirage Limousines take you there.
Book Your Limo for Taste of the Championship
4. Taste of the Championship
For the foodies among you…sample gourmet food and beverages representing geographic regions from around the country at the Northwestern Mutual Taste of the Championship.
Headlining the event will be renowned Food Network celebrity chef, Beau MacMillan, executive chef at Sanctuary on Camelback Mountain and its featured restaurant, elements.
Arizona-area chefs participating in the event will include Kevin Binkley (Binkley's) and
Richard Boyer (The Phoenician)…(More…https://collegefootballplayoff.com/#taste-of-the-championship)
Where: Phoenix Convention Center
When:
Sunday, January 10, 2016
from 5 – 8 p.m. MT
Price:
$250
Don't fight the traffic. Don't fight for parking. Just show up and enjoy gourmet food.
Let Mirage Limousines take you there.
5. Championship Tailgate
Today is the big day and there is no better way to start. Join other true fans and enjoy music and food. A real festival atmosphere. The ultimate game day tailgate features:
Live music
Interactive games
Sponsor activities
Concessions
ESPN broadcast sets
Championship Tailgate will be held on game day, January 11, outside of University of Phoenix Stadium. The event is free for all ticket holders attending the national championship game and will allow fans to gather and enjoy interactive games, sponsor activities, concessions, broadcast sets and live musical performances with additional talent to be announced in the coming weeks.
Where: U of Phx Stadium
When:
Monday, Jan. 11
Price:
Free for ticket holders
Don't fight the traffic. Don't fight for parking. Tailgate in a party bus!
Let Mirage Limousines take you there.
New Year's & CFP National Championship Festivities – Transportation
Mirage Limousines has been providing luxury transportation for over twenty years. No one does it better. Mirage knows what you expect from a limousine or party bus.
Top Notch Audio
Video System
Fiber Optic Lighting
Laser Lights
Crystal
Mirrors
and more
Many of our vehicles have lighted floors and ceilings. Plan to be amazed.
Mirage Limousines' Limos
These are just a fraction of the limos we have for you. Your New Year's & CFP National Championship Festivities Transportation can be a sedan limo or an SUV limo.
Get yourself a Rolls Royce for the night. It will easily seat eight to ten people. How great would that be? This limo turns heads. Cause a stir and show up in style in this beautiful Rolls Royce limousine.
Got a bigger crew? How about a Hummer limo. We have two and the largest will old up to 24 people.
Swing by and check out all of our limousines. We have more luxury vehicles than anyone in Arizona. See them all here.
Mirage Limousines Party Bus
Your crew is really large and a limo just wont do for you. That's ok, we have party buses that will hold up to 65 passengers.
Imagine you and your friends enjoying the National Championship festivities together. Every moment in these party buses is like a special event. Laser lites and crystal, fiber optics and mirrors make these buses sparkle.
The sound system is fantastic. Use one of the dance poles to steady yourself while you tear up the impromptu dance floor of your deluxe party bus.
More party buses than anyone in AZ, see them here.
New Year's & CFP National Championship Festivities Summary
There you have it, four days of action packed fun. Every morning head over to the convention center. every afternoon catch a free concert. Be part of a 5K run through downtown. Or sample gourmet delights. What ever you fancy, we have something for you.
For more information visit: http://www.collegefootballplayoff.com/
http://www.azcentral.com/story/entertainment/events/2015/11/18/arizona-college-football-playoff-championship-
The Valley of the Sun is preparing a spectacular New Year Celebration with the CFP National Championship festivities. Find your self here.
Don't fight the traffic. Don't fight for parking. Just show up and have fun.
Let Mirage Limousines take you there.