Welcome Back Arizona State University
Welcome back ASU! Its been a long hot summer and now it's time to blow off some steam. You and your school really make this town come alive.
Did you go home for the summer? Get your friends together to celebrate being back. You haven't seen each other in months. There are so many wonderful things to do together.
May we recommend that you rent a party bus to turn your next event into a party on wheels.
ASU History
Arizona State University (ASU) is the cornerstone of the city of Tempe. Located in the heart of the city, it generates a feeling of growth and energy that fuels the community.
Founded in the late 1800's, at the time it was called the Territorial Normal School at Tempe. Funny name, we know. A Normal School was a school that taught teachers. It taught norms, or standards. Thus the name Normal School.
Arizona didn't become a state until 1912. Arizona had your fabulous school before it was even a state! At the time Arizona was still just a territory. Thus ASU was initially called a Territorial school.
This was such a big deal that in 1911, Theodore Roosevelt, the former President, came to the ASU.  He give a speech from the steps of the Old Main during which he praised Arizona, still a territory, for its "far-sighted wisdom and generosity."
Far sighted indeed. ASU has grown to be a top school in the nation and an important part of the Arizona landscape.
We are glad you are here!
ASU Party Bus Events
Celebrate your school spirit by gathering up a bunch of friends and renting a party bus. Let loose with your friends and salute being part of such a unique community.
Football
Sun Devils football games are more fun to attend when rolling up as a crew. Imagine a party bus full of off-the-wall Sun Devil fans.
ASU Sun Devils' next few home games are:
Saturday, Sep. 24  against California Golden Bears
Saturday, Oct 8 against the UCLA Bruins
Party buses are built to hold 25 to 65 passengers. This means that everyone can travel together. Don't sweat parking or traffic. Our professional chauffeurs will get you there in style.
Concerts
Now that the cooler weather is approaching promoters are bringing in the greatest shows and bands to the valley.
For example:
DROPKICK MURPHYS are at The Marquee Theatre on Thursday, September 29th. Located just north of Tempe Town Lake near the southwest corner of Mill Avenue and Washington Street, the Marquee Theatre is an institution in the Valley's live music scene.
Florida Georgia Line at the Ak-Chin Pavilion on Friday, October 7th. Ak-Chin Pavilion is an amphitheater located in Phoenix, Arizona, which seats 8,000 under a pavilion roof and an additional 12,000 on a hillside behind the main stands.
Pack up your crew and travel together to see the best bands and the best shows. No one gets lost or left behind when you all travel together in a party bus.
ASU Homecoming
ASU Homecoming in 2016 will be held from October 16 – 22. There will activities University-wide this whole week.
Homecoming is an opportunity to welcome back alumni. They have their own wild memories of their college years. The atmosphere is electric and festive, from the parade to the big game.
Its a chance to celebrate the long history and tradition of your alma mater. Alma mater is your kind mother and refers to the school you attended. Your kind mother has crafted some wonderful activities for you this week.
Get a party bus and cart your closest friends to:
Homecoming Comedy Show
Featuring: T.J. Miller and Damon Wayans Jr.
Date: Monday, October 17, 2016
Doors: 7 p.m., Show: 8 p.m.
Location: Wells Fargo Arena, Tempe Campus
(Available to ASU students with the option to bring one non-ASU guest.)
Homecoming Football Game
Featuring: ASU vs. Washington State
Date: Saturday, October 22, 2016
Time: TBA
Location: Sun Devil Stadium
Book a Party Bus ASU
Mirage Limousines is your neighborhood party bus company.
We are just up the street on Scottsdale Rd. We know its confusing because Scottsdale Rd is actually Rural Rd up by you. But no worries.
Head north into the city of Scottsdale on Rural Rd and it will gradually become Scottsdale Rd just before the 202 Red mountain Freeway.
Mirage Limousines has more party buses than anyone in the valley. We definitely have one to suit your needs.
Each party bus comes equipped with:
State-of-the-art Sound Systems
Huge TV's
Mind-bending Fiber Optic Lighting
Dazzling Laser Lighting
Sparkling Crystal
Shiny Mirrors
And more
We spare no expense on all our vehicles.
Mirage Limousines' smallest party bus is made to hold up to 25 people. Like all of our limo buses it has laser lights and large TV's. It has crystal and mirrors and a sound system that will rattle the glass.
Get more information here.
Gather your friends and ditch the road rage. No one gets lost nor left behind.
---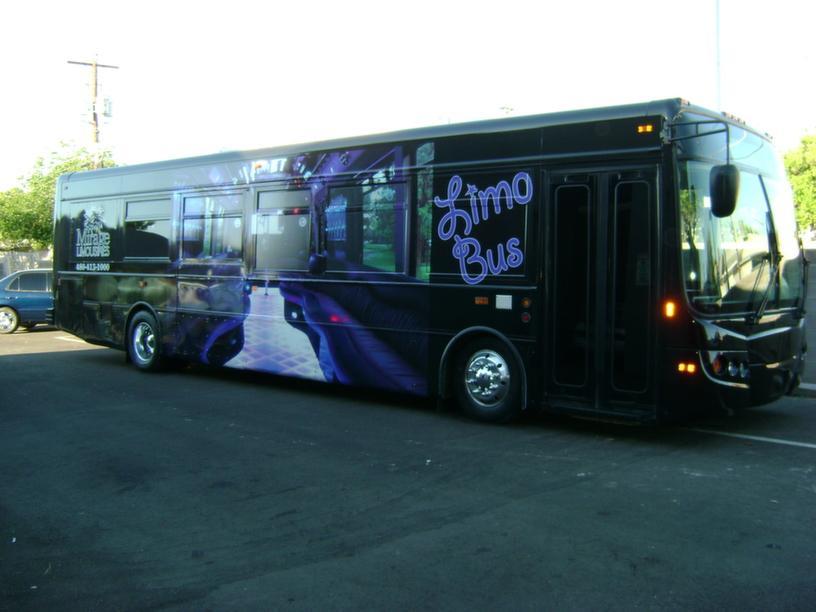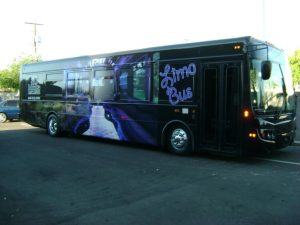 This is by far our most popular party bus. It holds up to 35 passengers.
Imagine your friends laughing and dancing as you drive down the road.
No one needs a map. No one is going to get lost. No road rage, no parking snafus. Our professional chauffeurs will navigate the city streets while you just sit back and enjoy the fun
There's nothing like a party bus: laser lights and dance poles, booming stereos and large TV's.
This party bus (limo bus) comes equipped with:
A Disco Floor
Fiber Optic Lighting
Bubble Lamps
State of the Art Sound
Tufted Seating
Crystal bars, Carafes and Glasses
Multiple LCD TV's
A Dance Pole
See video and images on this page, dedicated to our 35 Passenger party bus.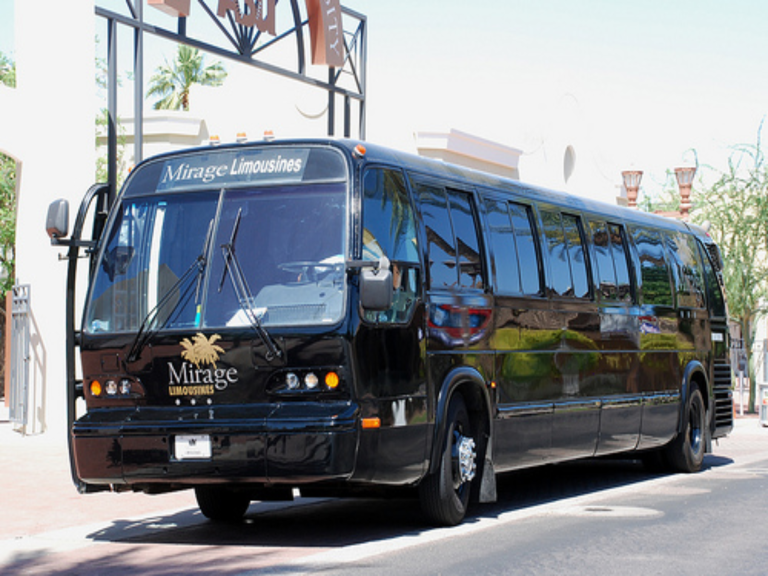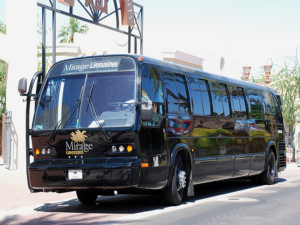 Forty-five is just such a nice round number. Although, you don't have to have 45 close buds exactly.
Perhaps you would like to stretch out. Overcrowding in a party bus is just no fun.
Mirage Limousines will make sure you and your friends are cared for and secure.
Everyone traveling together means that no one gets lost. Everyone arrives at the same time. And the whole ride was serious fun!
This party bus comes stocked with ice and water. It sparkles with crystal and mirrors. It's surrounded with laser lights and fiber optic lighting. Expect the best stereo and huge TV's.
This limousine party bus features:
60″ Plasma TV's
Disco Style Fiber Optic Lighting
3 Crystal Bars
Leather Seating
Surround Sound Stereo
CD/DVD
i-Phone/MP3 Hookup
Want to see more? Go here.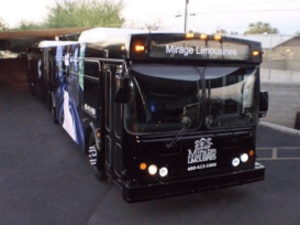 This is Mirage Limousines largest party bus. It is also the largest party bus in the state. It's so large that the center of this luxury vehicle is made to bend.
It has more lights, more crystal, bigger TV's and more dance poles. This is a nightclub on wheels.
This large, seventy foot, party bus (or limousine bus) is decked out with:
Three 42 inch Plasma TV's
Super Surround Sound
28 Speakers and 6 Amps
7 Crystal Bars
VIP Section
 Illuminated Dance Floor Throughout
DVD/MP3/iPod Hook-up
Mood Altering Fiber Optic Lighting Throughout
Laser Light Show
Dance Poles
Bubble Lamps
Tufted Seating
Be truly different and book the party bus that no one else has. No one else has it and no one you know has probably ever been in something so fabulous and deluxe.
Go here for more images. This one is really sweet.
Celebrate back to school. You deserve it!