Book a Party Bus or Limousine for the WM Phoenix Open!
Hurry! First Come First Served.
Once again we are here to provide you with the information you need to enjoy another fabulous event that just cries out for a limo or party bus. Scroll down to see all the fabulous vehicles we have for you. Attend the Phoenix Open in a Party Bus!
Let us be your source for all the best events in Arizona, specifically here in our beautiful Valley of the Sun. From what it is to what to wear, from how to have fun to how to stay out of trouble, you'll find it all here. Scroll down to learn everything you need to know about this upcoming event, the WM Phoenix Open.
What is the Waste Management Phoenix Open, you ask? Why if it isn't the greatest show on grass! It was conceived by the Thunderbirds and is sponsored by Waste Management. It's an event that draws thousands and celebrities as well.
Who are The Thunderbirds?
The Thunderbirds began in 1937, when the Phoenix Chamber of Commerce expanded its role to include conventions and tourism. They wanted to create a committee to handle special events.
They chose the name Thunderbird because it's the emblem of the Phoenix Chamber of Commerce and it's derived from an American Indian symbol.
One of the early inductees was an avid golfer and thought it would be a great idea to sponsor a golf tournament. That first year it was held at the golf course at the Phoenix Country Club. Then it caught on and was developed into one of the leading stops on the PGA TOUR. All active Thunderbird members have shown a sincere interest in sports and a dedication to community affairs.  To date, there are over 300 lifetime and active members of The Thunderbirds organization.
Who is Waste Management?
Waste Management is based in Houston, Texas. It is also a leading developer, operator and owner of landfill gas-to-energy facilities in the United States. Through their Zero Waste program the tournament has diverted 100% of tournament waste from landfills for three years in a row. Zero Waste means that for those three years, nothing from the tournament has gone to a landfill – not a single cup, can, sign or container.
Waste Management Phoenix Open Does Good for AZ
Not only has the tournament diverted waste from the community's landfills, they have also given back to the community in many other ways. The tournament helps support the Miracle League of Arizona and many other nonprofits in the Valley of the Sun.
Phoenix Open Supports Miracle League of Arizona
The Miracle League of Arizona (MLAZ) has a mission to provide a fun, safe and successful baseball experience for individuals with special needs. Opening their gates in 2011 with just two teams and a handful of participants, MLAZ now has 18 teams and plays four days a week to accommodate its 250-plus athletes. MLAZ takes pride in offering this opportunity free of charge to the families of these special need athletes who have to cover numbers of therapy and medical costs. Thunderbirds Charities has been supporting MLAZ from the beginning and has been honored to donate as much as $25,000 every year towards the ever expanding program.
Phoenix Open Supports Sustainability
Waste Management and The Thunderbirds also hold a GREEN OUT day. Started in 2011, it is a way for fans to honor and support the sustainability initiatives of the tournament and title sponsor Waste Management. In 2015, the GREEN OUT raised $75,000 for three environmental non-profits organizations ($25,000 each).
What to Expect at the Waste Management Phoenix Open
The Golfers to Watch at WM Phoenix Open
Book your ride to see the WM Phoenix Open in a Party Bus or Limo. Some of the top golfers in the world will be there, including ten of the top 30 to watch this year. Show up in style, get a limo or a party bus. Hurry before they run out.
The Waste Management Phoenix Open is one of the leading stops on the PGA TOUR. As such you are going to see some of the greats in the field of professional golf. Some of the names include: Phil Mickelson, Hideki Matsuyama, coming back to defend his title, Rickie Fowler, Justin Thomas, Emiliano Grillo, Daniel Berger, Andrew Johnston, Jon Rahm, Brooks Koepka and Si Woo Kim who are all on the list of the top 30 golfers to watch this year. Plus many, many more. See all of them listed here at Who is in the Field?
The Crowds at WM Phoenix Open
There will be 100's of thousand of people at this week long event. Last year's attendance broke records with over 600,000 in attendance, The year before, in 2015, more than 560,000 golf fans attended the Waste Management Phoenix Open.
Let us drive you and avoid the hassles of all that traffic and those packed parking lots. Let the fun begin when you leave your home. And not end until you return again. Get yourself a limo, you deserve it. See the WM Phoenix Open in a Party Bus or Limo.
Our fabulous weather here in the valley of the sun, combined with the horrible weather around the country, will make this event into THE place to be this time of year. Visitors from all over the globe will be attending this event.
The Best Days to See Celebrities
Book your ride for Wednesday, February 1st, which features the celebrity event of the Waste Management Phoenix Open week. Many celebrities and others will take part in the annual Annexus Pro-Am, which begins at 8:30 am.
WM Phoenix Open Dates and Location
Monday, Jan 30 – Sunday, Feb 5, 2017
17020 North Hayden Road
Scottsdale, AZ 85255
Enjoy the WM Phoenix Open Bird's Nest with a Party Bus
Show up in style. See the WM Phoenix Open in a Party Bus or Limo.
Whether you are into rap, country, pop punk or EDM, the Coors Light Birds Nest has what you need. For four nights the hottest nightclub in Scottsdale will be the Coors Light Birds Nest. Expect great music, beautiful patrons and enthusiastic partying. It's a show all its own and shares much more in spirit and style with the best concert venues in the country than a golf tournament.
"The Coors Light Birds Nest has become such a popular venue for not only fans of the Waste Management Phoenix Open, but for those who love concerts and a great music atmosphere," said Birds Nest Chairman Dillan Micus.
Coors Light Birds Nest
Wed – Sat | Feb 1 – 4  | 2017
Bird's Nest Tickets
General Admission starting at $50
VIP Tickets starting at $200:Half Column
VIP includes:
complimentary catered dinner
complimentary drinks
access to a newly redesigned premium viewing area for the shows.
Organizers encourage fans to buy their tickets early.
Located directly across from the main Waste Management Phoenix Open tournament entrance at 82nd Street and Bell Road.
Opens at 3:30 p.m. and closes at 10:30 p.m. Wednesday through Saturday.
Headline acts will take the main stage each evening at approximately 6:30 p.m. and 8:30 p.m.
The Coors Light Birds Nest is a 21-and-over venue.
For more information, visit coorslightbirdsnest.com.
Wednesday, February 1st — Jake Owen with Chase Rice
Thursday, February 2nd — Toby Keith with The Band Perry
Friday, February 3rd — Kaskade and Flo Rida
Saturday, February 4th — Blink 182 and Steve Aoki
Tips and FAQ's for the WM Phoenix Open
Must-have items at this event will include sunscreen, a hat, comfortable shoes and binoculars. See more at Spectator Tips.
Some Important WM Phoenix Open FAQs Include:
Are mobile phones allowed at the tournament?
Tournament attendees may now bring Mobile Devices, such as cell phones and other PDAs (Portable Digital Assistants), on to tournament grounds of the Waste Management Phoenix Open.
However, so as not to interfere with tournament play or disturb golfers or spectators, there are a few guidelines that must be followed:
Devices must be set on silent mode at ALL times while on tournament grounds.
Devices may be used for calls only in designated areas which will be marked by signage.
Devices cannot be used as a camera once play begins on Thursday, February 4th.
Devices cannot be used as a video recorder at any time.
Devices must not be in sight near the rope-line in teeing areas, on the fairway or near the green. If patrons are not near the rope-line and well away from competitors, texting and emailing is permitted.
Tournament personnel will be monitoring device use throughout the tournament grounds. Fans who violate policy will be given two choices:
Surrender the mobile device and retrieve it later by presenting a receipt at an area near the main gate when they leave the tournament.
Leave the property immediately.
NOTE: The Waste Management Phoenix Open has developed a FREE iPhone App. It may be downloaded for free at the iTunes online store. The App features tournament information, live scoring, tee times, news and the ability to send updates in the form of text messages.
WM Phoenix Open Golf Etiquette 101
Spectators will be subject to expulsion and the loss of ticket privileges for the following breaches of etiquette:
Making rude, vulgar, or other inappropriate comments or gesture
Verbal or physical harassment of players, volunteers, officials, or spectators
Distracting a player or any disruption of play
Behavior that is unruly, disruptive, unsafe, or illegal in nature
Failing to follow the instruction of a championship official, volunteer, or security personnel
Staying Secure at the WM Phoenix Open
This event, like any other major sporting event, comes with a whole list of do's and don't. The security of the fans and golfers are on everyone's mind. So if you just stick to this list of no-no's you should be able to enjoy this event without a hitch.
We aren't listing the do's, we are only providing the don't's. For more information, head on over to the Phoenix Open Security Procedures  page.
PROHIBITED ITEMS LIST:
• Prohibited items will NOT be permitted on any shuttles
• NO Backpacks
• NO Chair Bags
• NO Lawn or over size chairs
• NO Seat Cushions
• NO Pets except for service animals
• NO Bicycles
• NO Opaque Bags, including purses, larger than 6"x 6"x 6"
(in their natural state) will be permitted
• NO Clear Tote Bags, plastic, vinyl, or other carry items larger
than 12"x 6"x 12" will be permitted
• NO Video Cameras at any time
• NO Cameras permitted after Wednesday
• NO Radios, Televisions, or other electronic noise producing
items
• NO Whistles, Horns or Noise Makers
• NO Signs or Banners
• NO Alcoholic Beverages may enter or leave the
Tournament
• NO outside Food or Beverages may enter the
Tournament except for sealed bottled water and
medical or infant needs
• NO Plastic, Metal, or Glass Cups, Cans or Containers
of any kind except for medical or infant needs
• NO Coolers of any kind
• NO Weapons of any kind may enter the tournament
including but not limited to firearms or knives
• NO Computers or Laptops
• NO Fireworks
• NO Illegal Substances
• NO Laser Pointers
• NO Poles or Rods
• NO other items deemed unlawful or dangerous by
the PGA TOUR/Tournament Security Officials
NON-APPROVED BAGS:
• Backpack
• Binocular Case
• Camera Case
• Clear Backpack
• Tinted Plastic Bag
• Printed Pattern Plastic Bag
• Fanny Pack
• Seat Cushion
• Oversized Tote Bag
• Diaper Bag
• Mesh Bag
• Purses LARGER THAN 6"x 6"x 6"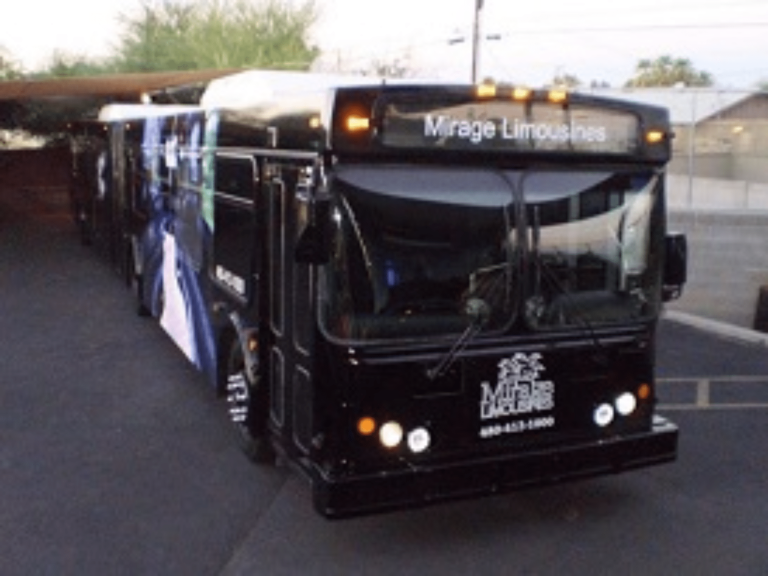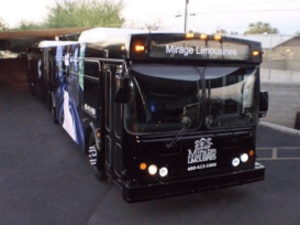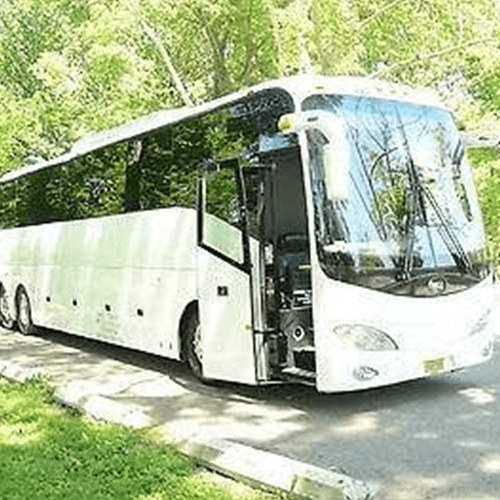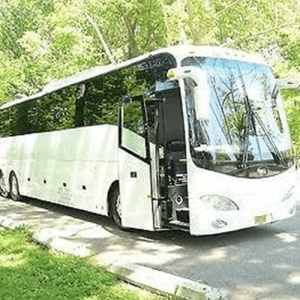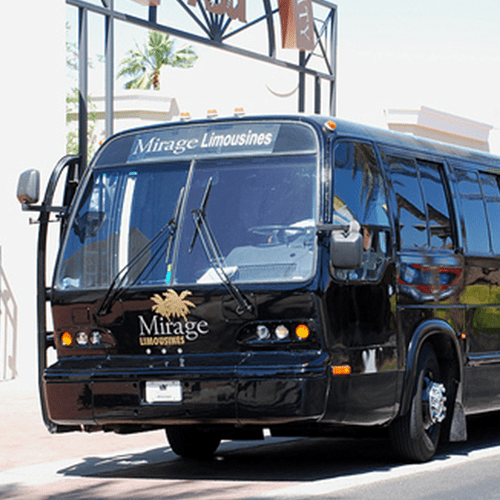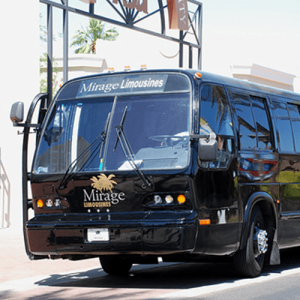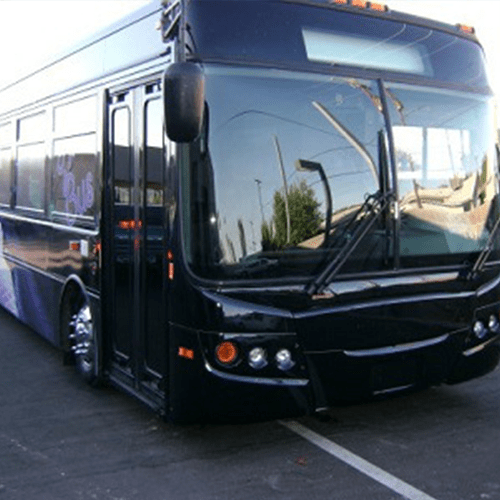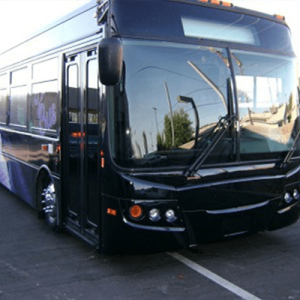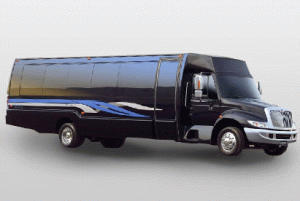 Attend the WM Phoenix Open in a Party Bus
Imagine yourself pulling up to the Phoenix Open in a Party Bus. You and 65 of your closest friends. Yes we have a party bus that will hold 65 people. But there's only one luxury vehicle that can hold 65, so you better hurry! First come, first served.
We have five party buses. One of every size, from a 25 passenger to a 65 passenger. They come in both white and black. None has more party buses than us and nobody's party bus is more deluxe than ours! Every party bus has:
Dance Poles
Privacy Windows
Stereos that are Top of the Line
TV Screens for Video
Bars
Mirrors and Crystal
Amazing Light Shows, both Laser and Fiber Optic
The ceilings light up, as do the floors. You won't see another one like these. Please stop by our showroom and ask them to light it up for you!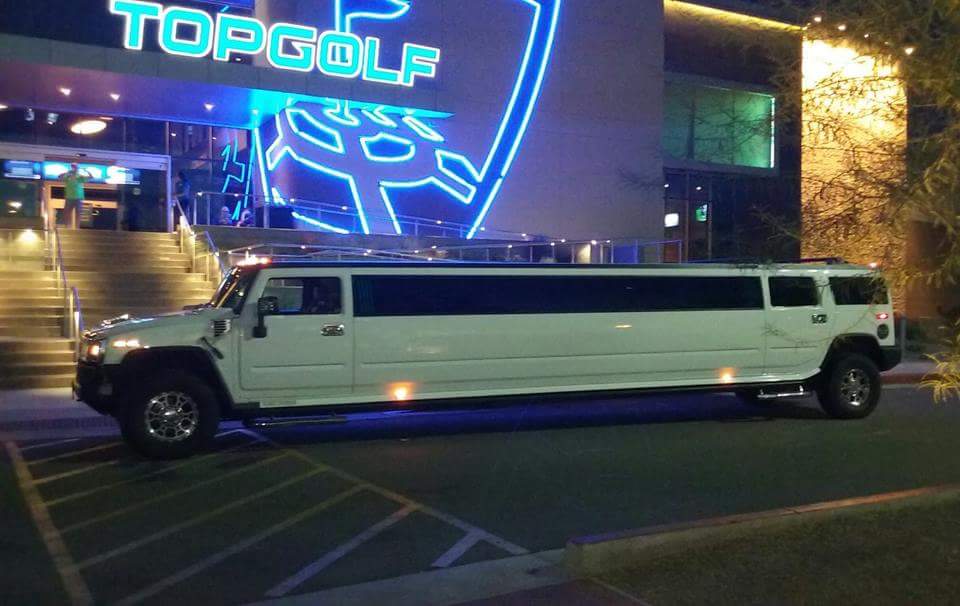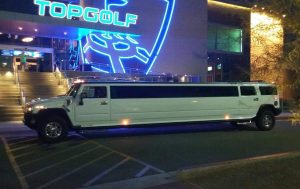 Or Attend the WM Phoenix Open in a Limo
This is an event where you want to show up in style. Its in Northern Scottsdale for one. Plus this crowd is going to be the creme dela creme from all over the world. Everybody is going to want to be here. First for the great action. Secondly because our weather cannot be beat this time of year.
It's always more fun traveling in a crowd to the WM Phoenix Open. So gather up your crew and have the time of your life! Our limousines will seat up to 24 people. So get a small limo for eight to ten people or pull out the big guns and rent the Hummer. It seats 24 easily.
We know what you expect in your limo and we deliver!
Top Notch Audio
Video System
Fiber Optic Lighting
Laser Lights
Crystal
Mirrors
Bars and more
Many of our vehicles have lighted floors and ceilings. Plan to be amazed.
Waste Management Phoenix Open – Transportation
Don't be fooled. Anyone can say the have luxury transportation. We can prove it! Swing by our showroom and lets us show you why we are the leader in the Phoenix metro area. No-one does it better!
Mirage Limousines has been providing luxury transportation for over twenty years. No one does it better. Mirage knows what you expect from a limousine or party bus.