So Many Proms, So Few Prom Party Buses
Proms start this month, March. However, next month is the busiest month for Proms this year. In April there will be more than 20 Proms in Phoenix all on the same day! If this is your Prom date, please book early.
How many party buses will be needed to accommodate all these Prom goers? At Mirage Limousines we have more party buses for Prom than anyone else. But we surely don't have enough party buses to handle everyone who is going to need one for Prom.
Book early, please.
Book Prom Party Bus Here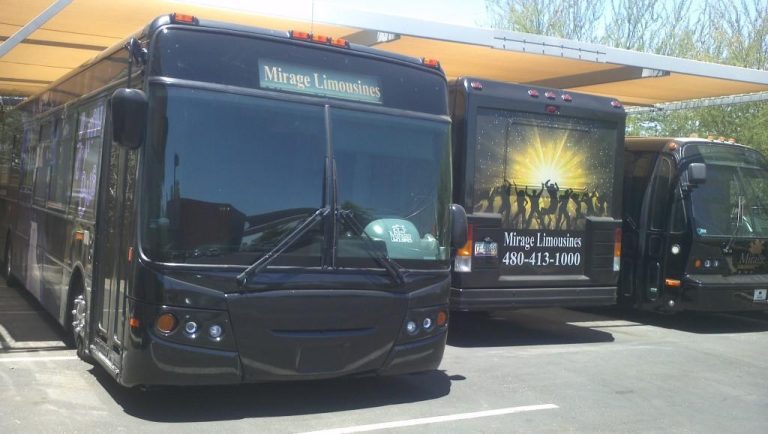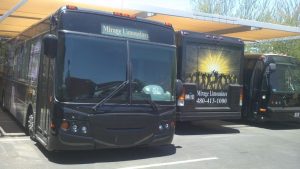 Mirage Limousines has more party buses than anyone in the Phoenix metro area. One of our party buses can hold up to 65 people. Yet, if we rolled out every luxury vehicle we have, filled to capacity, Mirage Limousines could not get one whole high school to Prom, let alone twenty or more high schools on the same night.
So, as much as we would love to help everyone, we just can't. Its up to you to get on your computer, get on your phone. Start checking out party buses and service providers. Swing by their office, if they have one. Insist on seeing your party bus before you pay.
Busiest Prom Saturday
The busiest Prom Saturday this year will be Saturday, April 22nd. On that day there will be 20+ Proms. These Proms include high schools like: Brophy, Buckeye, Centennial, Desert Vista, Horizon, Ironwood, McClintock, Mesa and more.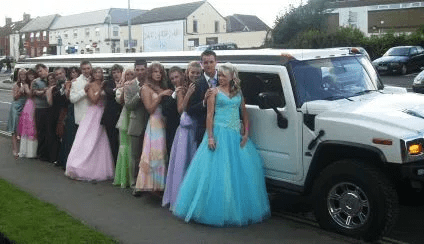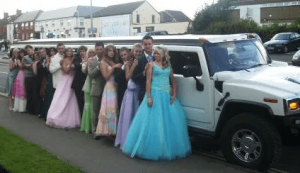 If Saturday, April 22nd is your Prom day then you will have a lot of competition for party buses on that day. The early bird gets the worm, as they say. So be that early bird and get your party bus (worm) before they are all gone. Chances are good that all of our party buses will be booked on that day. Hope you get yours.
Next Busiest Prom Saturdays
There are Proms on each of the following Saturdays: April 1st, April 8th and April 15th. Peoria you are on April 8th with Cactus and Greenway and more. Then Sunnyslope and more are all on April 15th. April 22nd will be Brophy, Buckeye, Centennial, Desert Vista, Horizon, Ironwood, McClintock, Mesa and more.
The above Saturdays are very busy for Prom this year. If you have a Prom on one of these Saturdays then you better get busy. That is if you don't already have your Prom party bus booked.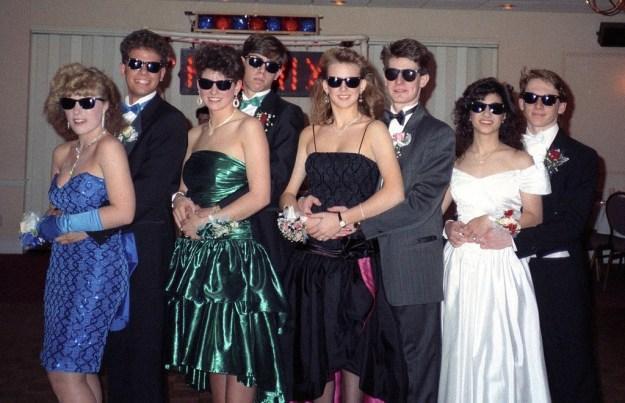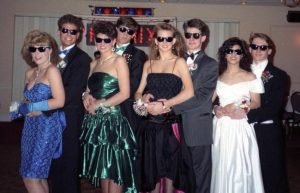 Prom in a Party Bus
Prom used to be a romantic event. Girls waited longingly for the boy of their dreams to ask them to Prom. If you didn't get asked, you didn't go. Honestly. And not that long ago.
Times have changed. Prom doesn't have to be a romantic night enjoyed only by couples anymore. Lots of Prom goers travel with a group of friends.
Girls go to Prom with other girls and guys have been known to travel to Prom together as well.
Does this sound like you? Are you that type of modern individual? Do you plan on enjoying your Prom in a group instead of as a romantic twosome or double date? Well then, a Prom party bus may be just what you need.
New Prom Etiquette
In the past, the boy paid for a limo for himself and his date. That may still be the case in many situations. But nowadays the new option is for everyone to pitch in on the transportation.
This means your options for luxury transportation can be greatly expanded. You would never consider booking a party bus for only two people or for four people. Our smallest bus is for 25. So if you expand your group of compadres from two or four to say ten or more, now a party bus becomes a viable option, and a little exciting!
Also, in the past girls waited to be asked to Prom. Nowadays no one waits to be asked. Girls these days are perfectly content going to Prom in a group. So get out there! Round up your friends. Enjoy a Prom party bus Phoenix.
For more information about this year's Prom, visit this blog post called, "Mirage Limousines Loves Prom!" It contains a calendar of all the Proms scheduled this year. See how busy your Prom day is going to be.
Plus, we created a page dedicated to Prom. On it you'll find the history of Prom, how to book a limo or party bus for Prom and more.
Why Prom Party Bus?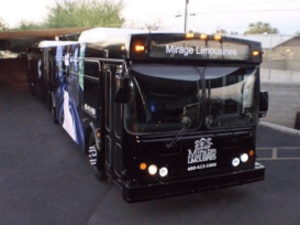 The expense is always a concern at Prom. There are just so many things to buy. This article, from an Alabama newspaper, lays out a list of the many things you will need to pay for before the night is over. Some things on the list include flowers, dinner, and tickets. The prices are Alabama prices and could be different in Arizona.
This next article is from a more national perspective. It too lists the many things you will need for Prom and a range of prices you may be expected to pay.
Then before you know it you're tapped out.
Don't let this happen to you. Renting a party bus is a great way to save a little money at Prom. Don't just rent a luxury vehicle for you and your date. Get a party bus and divide the cost of transportation between ten couples, or more.
It's always more fun in a crowd anyway.
Get a Party Bus for Prom
Move over Prom limo. Make room for Prom party bus!
Limousines have been the most popular choice in luxury transpo for Prom from, well, forever. Prom goers have been showing up in limos ever since there was Prom. Many Prom goers use a car service and arrive at Prom in a regular sized Escalade or Mercedes.
But party buses are the latest thing in luxury transportation these days. They are so new there is confusion as to what to call them. So party buses go by many different names. In this post, you'll see them called "limo buses", "limousine buses", "party buses" and more.
Mirage Limousines provides limousines and car service. But party buses are what separates Mirage Limousines from every other limo company in Arizona. We have party buses of every size, more than anyone else.
The cost for these party buses is minimal when it is divided up by all the passengers.
Imagine rolling up to Prom in a party bus!
Mirage Limousines' Prom Party Buses
Here at Mirage Limousines, we have five party buses available for Prom. Our smallest holds up to 25 people. Our largest one can accommodate up to 65 people.
These party buses have room for walking around or dancing. There are dance poles to hold onto so you don't fall. These dance poles can also be used to show off mad dancing skills. But that is up to you.
The sound systems on these buses are so loud that people will hear you coming from miles away! Plug your phone into the sound system and enjoy whatever type of music you like. Your favorite tunes have never sounded better.
The buses have mesmerizing light displays. The insides have mirrors and crystal that sparkle and reflect the lights around the bus. Laser lights twinkle on the seats and the ceiling.
You and your friends will be in your own traveling nightclub. So if you are considering a Prom party bus Phoenix, then you have come to the right place.
Mirage Limousines has many party buses available for Prom.  Disco lights, booming stereos, laser lights and more make each of them a party on wheels.
Prom Party Bus Inside
The insides of these party buses are built to party. The slide show below will give you a sense of what to expect. But nothing beats seeing them for real.
Each party bus comes equipped with:
State-of-the-art sound systems
Huge TV's
Mind bending fiber optic lighting and laser lites
Crystal and mirrors sparkling everywhere
And more…
Super Bus
Your Prom party bus could be the Super bus. It will hold 65 of your friends. This Super bus is the largest party bus in Arizona. The center of the Super bus is "articulated", or made to bend. That's how large it is!
Mirage Limousines' Super Bus Video
Or choose from one of Mirage Limousines' smaller party buses. You have your choice of several different limousine buses.
55 Passenger Bus in White
This is our newest party bus. It's the only one in white. It comes equipped with high tech lighting, superior sound and more. You just have to see for yourself.
Big Bus
The next Prom party bus available for you on Prom will hold 45 passengers. We call it the Big bus because for a long time it was the Big bus around here. Now, of course, it's not the biggest around here anymore. But the name has stuck.
Medium Bus
Our Medium bus, the next smaller, seats 35 people. This is our most popular party bus. It can be seen in this Quinceanera video.
The Small Bus
Mirage's smallest party bus will fit 25 people nicely. Like its bigger brothers, it has a booming stereo, fiber optic lighting, room to party and more.
Prom Party Bus Rental
Mirage Limousines has been providing luxury transportation for over twenty years. No one does it better. Mirage knows what you expect from a limousine or party bus.
Top Notch Audio
Video System
Fiber Optic Lighting
Laser Lights
Crystal
Mirrors
and more
Party buses have lighted floors and ceilings. They have dance poles and room to move around. They are like mobile night clubs.
Plan to be amazed.
Expect Quality
No one pays attention to the details like we do. Our vehicles are meticulously maintained by our in house detail staff. Our in house mechanics go over every mechanical detail with a fine tooth comb.
We house our vehicles at our showroom on Scottsdale Rd. No one else can say that. We go that extra mile so that you can feel comfortable in your decision to rent from us.
What to Expect from Your Prom Party Bus
Your Prom party bus will be sparkling clean and in top working order. Your driver will be an experienced, licensed professional.
The inside of a party bus will light up like a discotheque if that's what you want.  The floors light up as do the ceilings. There's also a laser light show that puts a twinkle on the seats and windows and walls.
The stereo system will be so booming that people down the street will hear you coming. The booming bass coming from this stereo is so powerful that you will feel it in your chest.
The music will make your feet want to move. You might need to step aside. Someone in your party may want to use the dance pole. Yes, every party bus comes with a least on dance pole.
Imagine, you and your friends celebrating the time of your lives.  Making memories, the stuff that, when added up, make a life.
Visit Mirage Limousines
We invite you to come see your Prom party bus. Prom transportation is a major expense. You should always see what you are paying for before you pay. Sadly, there are many unscrupulous people out there who will gladly take your money and leave you stranded.
Mirage Limousines is one of the rare limo/party bus companies that has a showroom. All of our vehicles are available to be viewed by the public at our showroom on Scottsdale Rd.
See It Before You Book It!
Wherever you rent you luxury transportation, see it before you book it. Sadly, there are unscrupulous individuals who will rent a car they do not have. Or offer a car you will never see. One year, several girls here in Arizona rented a party bus from Pennsylvania. No Pennsylvania company can run a party bus in Arizona, not without AZ plates. So, in the end, they got no party bus and they were out the $500 deposit. We know because they came to us in a panic. Don't let this happen to you. Thankfully we could accommodate them. Happy ending. Whew!
See it before you book it! Its a major expense. You wouldn't buy a house with out seeing it, or a refrigerator or anything else that is a major expense without seeing it. Don't be fooled by some sweet talking salesman. See your Prom party bus before you sign anything or pay anything.
See it before you book it!
Mirage Limousines:
813 N Scottsdale Rd
Scottsdale, AZ 85257
Showroom Hours:
Mon-Fri 10am-5pm
Sat 9am-6pm
Call (480) 970-7700 24/7
A Little Background on Mirage Limousines
Mirage Limousines was started in 1982 in Tempe, Arizona. At that time we only had one limo. We ran the business out of a home, as do many limo companies.
Over the years we have added limos, fancy cars, and party buses. We are now the oldest and largest limo/party bus company in Arizona.
We recently added a Cadillac XTS limo to our fleet. This stretch limo has the added convenience of a fifth door.
Also, we recently added our Super bus. This humongous party bus will seat 65 people! It is 70 feet long.
Since those early days, we have moved from our home office into a fabulous showroom on Scottsdale Rd. This move makes Mirage Limousines more transparent to the public. We are pleased to be able to display our vehicles at our showroom in Scottsdale. Please swing by and say hello.