What is Quinceanera?
Quinceanera is a right of passage. It marks a turning point in a young girl's life. Quince (Keen-say) means fifteen in Spanish. This event is the celebration of a young girl's fifteenth birthday. Quinceanera stands for the event. It is also the name of the young girl herself.
Every child deserves a rite of passage. The change from child to young adult is an important time in everyone's life. It should be celebrated. Perhaps this is an event more Americans should enjoy.
Quinceanera Attire
The special girl dresses up in a fabulous ball gown.
She wears a tiara to symbolize that she will always be a princess. "The tiara serves as a reminder that to her loved ones, especially her immediate family, the quinceañera will always be a princess; however, some also see it as denoting that she is a "princess" before God and the world. " Wikipedia
Quinceanera Participants
This "princess" is joined by a court of honor. "The court of honor is a group of her chosen peers consisting of paired-off girls and boys, respectively known as damas (dames) and chambelanes (chamberlains). Typically, there are seven or fourteen pairs of damas and chambelanes." Wikipedia  This court of honor also dresses formally.  They could be mistaken for a wedding party if they weren't so young.
Book Your Quinceanera Transportation Now
Mirage Limousines has had the privilege of transporting many Quinceanera parties. Often the young lady will choose a light or dark vehicle based on the color of her gown.
Quinceanera Party Bus
Party buses are becoming very popular for these event. This video shows our 35 passenger party bus.  This party bus is very popular with the Quinceanera crowd.
Would you like to see all of our Party Buses? Well they can all be found here.
Hummer Limos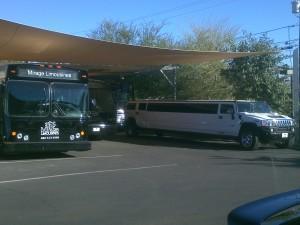 Experience the ultimate in modern styling. The rugged outer features contrast nicely with the smooth interior amenities. Only a Hummer limo can truly deliver that level of contrast. If you're looking to arrive in a powerful ride that exudes VIP limo status, you can't get do better than arriving in a Hummer limo.
When you pull up in a Hummer limo, you will stand out from the crowd. Hummer is the perfect combination of luxury and ruggedness. Making it command attention! Our Hummer limousines have a rugged elegance yet remain bold and stylish.
The Hummer Limo is among the most popular limo of its SUV Stretch class.
Hummer limos radiate with class and have a jaw-dropping effect on anyone who sees them. It's a fun and exciting ride.
Limousine Options
Mirage Limousines has a number of limousine options. Surely you will find something to go nicely with your event. See all of your limousine options on our page dedicated to just limousines.
In addition to the personal touch that Mirage Limousines offers you'll enjoy the comforts of :
luxurious leather interior
state of the art TV's
DVD
Premium Sound System
Fiber-optic laser lighting
Bar stocked with complimentary bottled water, ice and glasses
Fully tinted windows will keep you and your party completely private. Jealous onlookers will just have to wonder about who or what is inside.
Your limo will surround you in the comfort of lavishly rich leather seats. MP3 connectivity provides superior sound for your style of music. The DVD player and TV's available for your viewing pleasure can be used to watch your favorite music video.
Check out our fleet page for the entire list of all of our luxury vehicle. Note the many in vehicles in black and white. A few are even champagne colored.
Quinceanera Red Carpet Package
Mirage Limousines offers a Quinceanera Red Carpet Package. With this package you can shower your daughter in balloons. Pamper her with a red carpet roll out. Raise a flag to her honor on the outside of her luxury ride. Have a toast with non-alcoholic Champagne and let us provide soft drinks and waters. Add this red carpet package to your limo service. Every little girl deserves the red carpet treatment.