The Super Bowl is Coming to Phoenix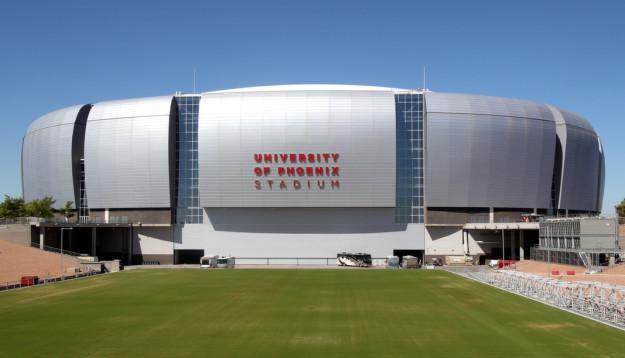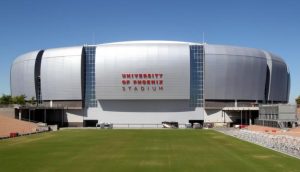 Super Bowl XLIX will be held in Phoenix, AZ this spring. Arizona will host its third Super Bowl in 19 years on Sunday, February 1, 2015. Super Bowl XLIX will be played at the University of Phoenix Stadium.
Mirage Limousines is looking forward to it being a very exciting time. There will be activities city wide. In fact, some of the Super Bowl related activities are already happening or have happened. This is a very big deal for Phoenix.
As a Phoenix native Mirage Limousines hopes to share some of the excitement with you. And we hope you'll let us be your luxury transportation provider this Super Bowl. Imagine yourself attending the Super Bowl in a limo. Book your Super Bowl Limo now!
Super Bowl Events:
100 days before the big event there was an event to celebrate the $600,000 in Super Bowl grant money that was awarded to Phoenix charities. Called the "100 Day Countdown" it was like a pep rally. It was held at a local elementary school in Phoenix. Those kids must have been thrilled to get out of class that day.
49 days before the big game there will be a 4.9 kilometer "fun run" at RAWHIDE. This is a family fun event with activities for the kids, food, drinks, and music. Rawhide is a Phoenix treasure and if you haven't been there you should definitely check this out. It is modeled after an old ghost town from the wild west and just a fun time for all.
Right now there is a huge football in the center of downtown. If you haven't been to see it,plan on it. Downtown Phoenix is an eclectic mix of art and food. Always something to see there. Now you can add a 20 foot high football. More than 32 feet around, it weighs more than  7,000 pounds.
The Charm of Phoenix
This video is being promoted on the Arizona Super Bowl Host Committee's website. It really shows off our city nicely.It starts in the desert and ends in the city. Highlighted are some of our greatest attractions, the Desert Botanical Garden, The Crescent Ballroom, a night club downtown.
We all hope when you come to visit you will want to stay.
Super Bowl Limo Provider
Check out our page dedicated to this year's Super Bowl. There you will find more things to do as well as information about the vehicles we have available for the big game.
Mirage Limousines serves the entire Phoenix area with limos, party buses and executive town cars. Let us be your luxury transportation provider, let us provide your Super Bowl limo.
[UPDATE: We have created a hub page for everything Super Bowl 49. You can see a bit of everything there.] [UPDATE 2: We recently blogged about all the Super Bowl transportation options. There aren't many.]