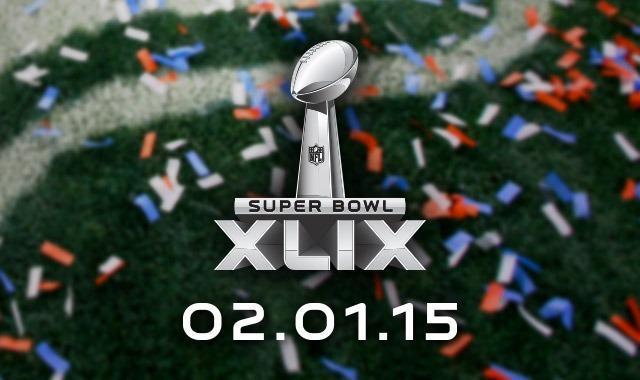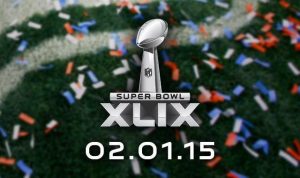 Mirage Limousines wants to provide your luxury transportation for the Super Bowl. Limos, party buses and executive sedans are all waiting for you. There is still time to book your luxury transportation. Show up in style!  Travel like a Boss.
Super Bowl Transportation Snafus
Getting to the Super Bowl can be a huge fan headache. Packed parking lots, long lines of traffic, it can wear you out before you even get in to see the game. Imagine yourself at last year's big game.
Mass Transit Super Bowl
Last year was billed as the Mass Transit Super Bowl. The first Super Bowl in which two US states (New York and New Jersey) hosted the event. Fans were encouraged to use the elaborate public transportation system available there.
Mistaken estimates of rail ridership by the NFL led to over-crowding and delays. Approximately 28,000 people took the shuttle and were faced with waits of up to 90 minutes. After the game ended, fans were asked to remain inside the stadium until more trains were dispatched to load passengers from the station.
Hopefully, this won't happen this year. There just  isn't a lot of public transportation that even goes to the University of Phoenix Stadium. So if you want to go to the game, you are probably going to have to drive or hire a driver.
Of course, we recommend you book a driver. And who better to book from than the oldest and largest limo service, party bus rental, car service provider? Don't sweat the preliminaries, like traffic and parking. Save your energy for the big game.
Super Bowl Details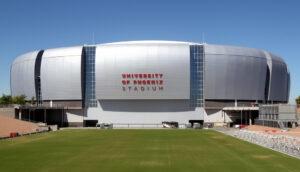 The big game is Sunday, February 1st. It will be held at the University of Phoenix Stadium in Glendale Arizona, a suburb of Phoenix. The stadium, home of the Arizona Cardinals, is a state of the art facility, modern, built in 2006, with a retractable roof and a grass field that rolls out of the building into the sun.
Kickoff is scheduled for 4:30pm Phoenix time (6:30pm Eastern time). This will be the second Super Bowl played in that stadium, and the third one held in the Phoenix metropolitan area.
University of Phoenix Stadium Parking
If you are dead set on driving yourself to the game don't forget a parking permit. Parking permits are required to attend NFL events, and only ticketholders are allowed to purchase parking permits.
Attendees of the 2015 NFL Pro Bowl and/or Super Bowl XLIX should visit superbowl.clickandpark.com prior to attending to purchase a parking permit for each game.
This is the Overall Parking Lot Map. Use it when buying a parking pass. This way you will know which lot you are buying a pass for.
Public Transportation
Mirage Limousines wants to be your transportation provider for the big game. However, we also want to be your source for valuable event information for this and any other major event in the state. As such we are providing information on public transit. But we hope you don't use it and call us instead.
Earlier in this post we mentioned that there isn't much public transportation out to the big game. While true, there is a limited amount of public transportation. So here it is.
Public transportation in Phoenix is called Valley Metro. They have put together a package of information for the big game. You can plan ahead for your long bus ride by visiting valleymetro.org/superbowl.
Valley Metro recommends allowing extra time to get to your destination, since many other fans will be joining you on your transit trip. Remember last year's Mass Transit Super Bowl. Super fail.
They also suggest that you pack lightly. Security will be tight. They request that you not bring coolers and/or other large items on bus or rail. You can click here for a full list of prohibited items.
Additional bus service will be provided in Glendale on Pro Bowl and Super Bowl game days. Visit: http://www.valleymetrosb.com/game-days/ for more details.
Mirage Limousines Super Bowl Transportation
So now you have the whole picture of the different ways you can get to the Super Bowl this year. You can take a chance that there will be another mass transit snafu like last year. You could fight the traffic and parking lot, buy a pass and simply lose your mind trying to park before the game even starts.
Or you can avoid the traffic hassles and parking nightmares. Take no chances on public transit. Get yourself a driver. You earned it. Want a Rolls Royce limo? We have that. What about a Hummer limo? Got that too.
Plus we have parking passes. The venue provided a limited number of limo parking passes and we got 'em. Not too many mind you, so get here quick.
Visit our fleet page to see all of our luxury vehicles. Or the limo page if you are only interested in a limo. Or the party bus page if you'd like a party bus for the Super Bowl. Pretty much if you want it, we got it. Just for you.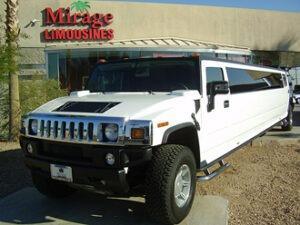 Here is a previous blog about the Super Bowl. It contains info about the events going on around the city.
This is our hub page with a collection of everything Super Bowl related. Check it out.