Weddings in Arizona are spectacular. Whether outside under the huge blue sky, next to the beautiful red rocks of Sedona, or inside one of our fabulous resorts or historical landmarks like Wrigley Mansion in the Biltmore.
When you provide transportation for all the guests you rest assured that they will not be late. Nor will they get lost.
There will be no road rage and no frazzled nerves. In fact, your guests will show up relaxed and in style, as they should.
Make your wedding the best one your guests have ever attended. Make this the wedding they will talk about for years and the one they will try to emulate.
Your Arizona wedding will shine with a wedding limo or party bus from Mirage Limousines.
Wedding Transportation Ideas
There are at least four reasons to need a limo or party bus for your wedding. Certainly the bride and groom deserve their own Limo. Then there's the wedding party, wedding guests and finally those bachelor and bachelorette parties.
Bride and Groom Luxury Transportation
At the very least the bride and groom should have a limousine. He shouldn't see her beforehand so maybe the bride should enjoy the limo by herself before the big event.
Then the happily wedded couple could use a lift from the church to the reception. Maybe even a lift from the reception to their hotel.
They deserve to be pampered. With all that is going on around them, they may need a couple minutes alone.
Wedding Transpo for the Wedding Party
Lots of couples provide wedding transportation for their wedding party.
Imagine your wedding party relaxed and comfortable as they are shuttled around in a nice big Hummer limo.
It has been suggested that the Bride or her family should be responsible for booking the transportation for everyone to get to the church.
Then the Groom or his family could incur the transportation expense for everyone leaving in the end.
Wedding Guest Transportation
Got out of town wedding guests?
Why worry that they'll get lost on the way to the ceremony or worse, be late?
Get them transportation as well.
Before the Wedding
In the months and days leading up to the wedding the bride and groom will celebrate with their friends.
Traditionally the men have a Bachelor party, or stag party.
The ladies will plan for a Bachelorette party.
Both of these events call for luxury transportation large enough to hold a crowd.
Bachelor and Bachelorette Parties
Your friend is about to make a huge change in their life. Let's celebrate!
Load your compadres into a party bus and lets do this thing right.
For more local ideas for the bachelor and bachelorette parties see this post: Bachelor (or Bachelorette) Party Ideas.
For more general help in planning this very important occasion head on over to The Knot for some great ideas for a Bacholerette Party.
Still looking for ideas? Try this article also by The Knot.
Limousine Rental Tips and Tricks
When you are looking to rent a limousine there are many things to consider. The date, the number of people, all these things will effect the cost of your luxury transportation. So have those numbers in mind when you call.
Limo descriptions say things like the limo will hold twelve to twenty-four passengers. But that is the absolute limit. Don't have your guests and wedding party squished together. Rent something a little bigger so everyone can stretch out.
The Wedding Package
Mirage Limousines offers a wedding package. For an additional $45 ($75 for the party bus wedding package) your wedding transportation can include: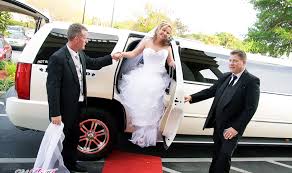 a "Just Married" banner on the back of the vehicle
bows and ribbons on the vehicle
a red carpet roll out
and a bottle of champagne, alcoholic or non-alcoholic. (Party buses include three bottles of champagne.)
Make your bride feel like a princess with this red carpet roll out.
Wedding Pictures
Of course we think you should get pictures with your limo. The option is there for you, if you like.
Although this may not be the only limo you ever ride in, it is the only one you will have for your wedding.
These are images worth preserving!
May we suggest you consider using Annie Randall Photography. She has a unique sensibility that plays well in the desert southwest. Visit her website to see couples shine even when surrounded by the dust and cacti, or maybe especially so.
Make a Grand Exit
The Knot is a great site for tips and tricks for your wedding day.
Here's an interesting tip…
Make a grand exit as you leave the church!
So much has been made about throwing rice and it's harm to birds.
Nowadays couples are looking for alternatives to throwing rice.
How about renting a confetti cannon like this couple did?
Wedding Limousine Choices
Mirage Limousines has been in the limo business for over thirty years. We have seen our share of weddings.
As such, we kinda know which limo will make the best impression.
Mirage Limousines has more wedding limo and party bus options than any other limo or party bus rental company in Arizona, limos from Lincoln and Cadilaac, Hummer and Rolls Royce. You are sure to find the wedding limo of your dreams here. Decked out with crystal and mirrors, lite shows and top notch sound systems. This part of the planning is going to be a cinch.
Rolls Royce Wedding Limousine
Choose the Rolls Royce limo if you really want to cause a stir. This looker stole the show at the Super Bowl last year. Seattle fans cheered for blocks when they saw her coming.
1939 Rolls Royce Limousine – Seats up to 16 passengers
Arizona's only Rolls Royce Limousine! The 1939 Double Axle Rolls Royce offers the finest luxury that money can buy. Fully upgraded, it has:
a digital entertainment dashboard
top notch audio system
hand stitched leather seats
2 crystal bars
fiber optic lighting
This special Rolls Royce limo is guaranteed to impress. The Limited Edition Rolls Royce is stretched to 42′ long, sits on a double axle with an air ride, and can accommodate 16 passengers in "J" style seating for maximum comfort.
For more pictures and details about this limo visit the Rolls Royce Limo page.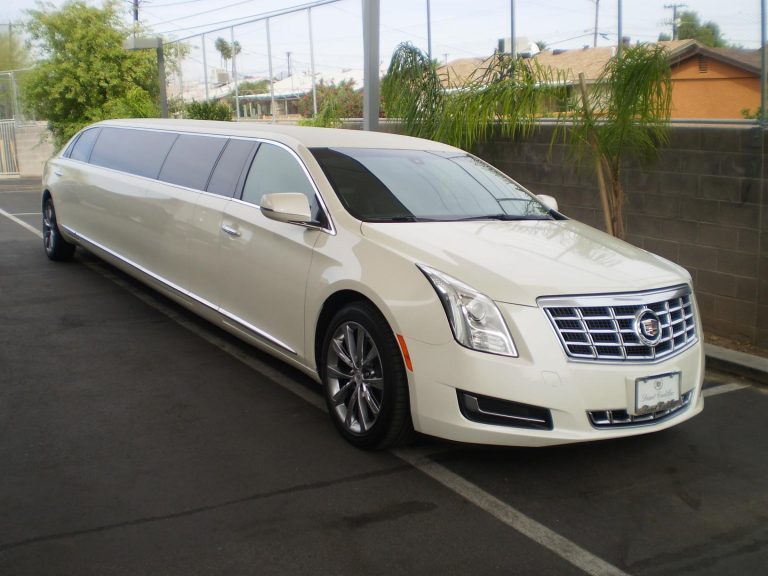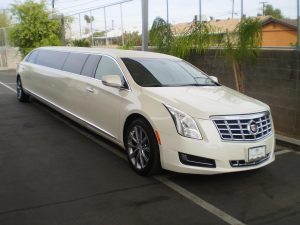 Cadillac XTS Wedding Limo
Our next most popular wedding limousine is our brand new Cadillac XTS, with a fifth door. This fifth door makes getting in and getting out of the limo much easier.
Cadillac XTS Limo, With 5th Door – Seats 12 Passengers
Mirage Limousines is the only limo service in the Phoenix metro area with this brand new, 12-passenger, Cadillac XTS Limo, with a 5th Door.
It comes with:
a leather interior
crystal bars
mood lighting
AM/FM/CD/TV/DVD/VCR
See pictures of this limo being used by a real bride on our wedding transportation page.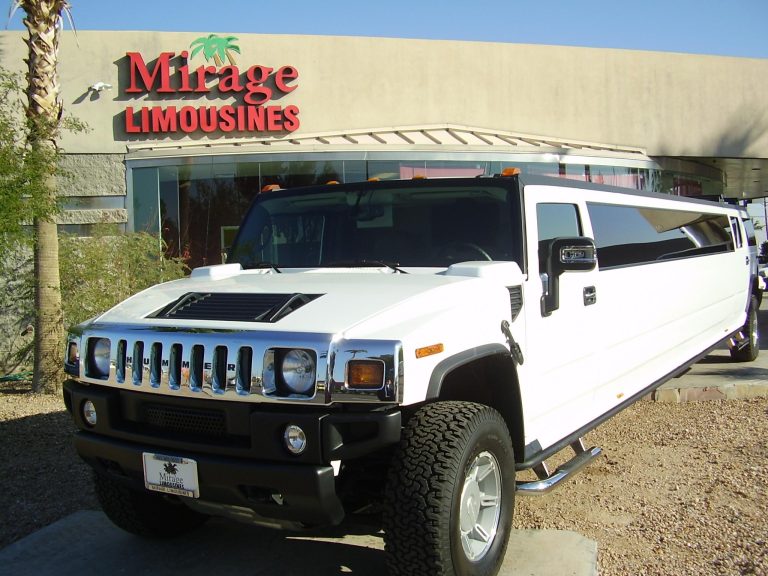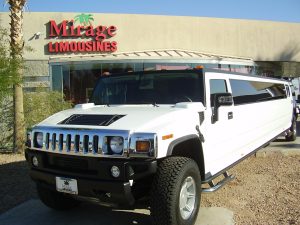 Hummer Wedding Limo
Got a more rugged sensibility? Perhaps a Hummer is more your style. Big and bold, this wedding limo is a real eye-catcher.
Hummer H2 Limo (White) – Seats 16 to 24 passengers
We have the Hummer Limousine in White for your wedding. We actually have two Hummer Limousines. The bigger one has spinners for rims. The come decked out with:
4 crystal bars
7 zone multicolored fiber optic lighting system
extremely nice chrome rims
neon lights underneath the vehicle
flat screen TV's
DVD players
all inclusive surround sound system.
See more about our Hummer Limos here.
Mirage Limousines' Party Buses
Party buses can hold up to sixty five people. Surely your wedding party will fit.
This is a great option for larger groups. Providing luxury transportation for your guests is a super nice thing to do. It's also a smart thing to do.
No one gets lost and no one is late. Be the hero. Cover the headaches of Phoenix traffic.
Mirage Limousines has more party buses than anyone in Phoenix. We have one of every size!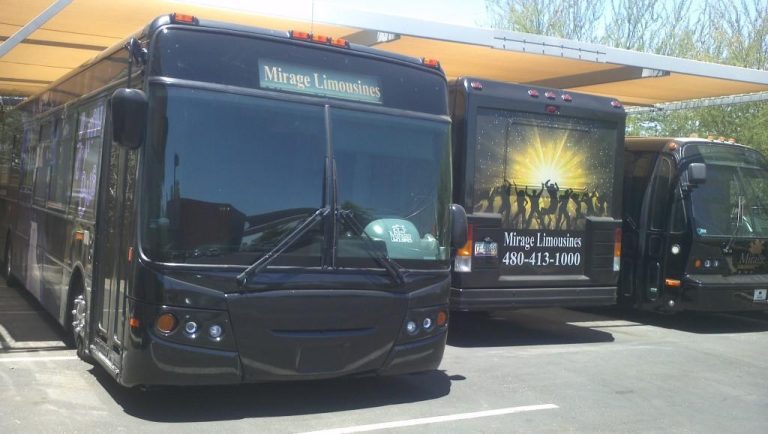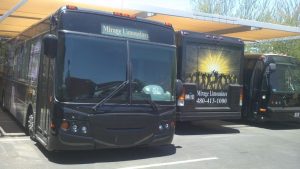 Small Party Bus
If your posse is a small one, opt for the small party bus. This party bus will hold twenty five people.
Surround yourself in a club atmosphere. Laser lites, cranking jams, dance poles and more. This is a party on wheels.
Medium Party Bus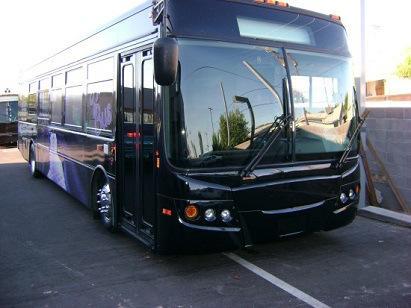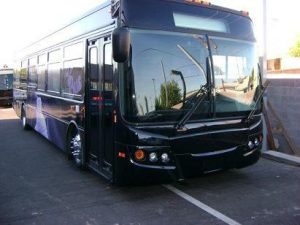 This is by far our most popular party bus. It seats thirty five, that is, if anyone is seated.
This too is a night club on wheels. Laser lites, booming stereo, the floor lights up as does the ceiling.
The crystal and mirrors inside glitter and shine. You are transported from the crush of the city into your own little world.
Consider club hopping in your club on wheels. No one gets DUI. No one gets lost. No fighting for parking and everyone gets to be together that much longer.
Big Party Bus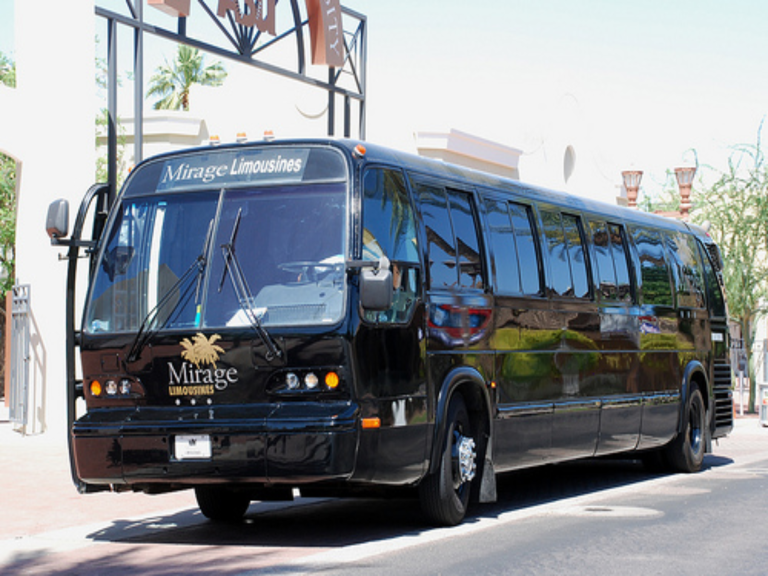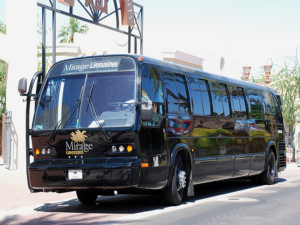 This is not our biggest party bus. That honor goes to the sixty five passenger party bus.
No this one is called the "Big Bus" because for a while it was the big one. So the name just stuck. Now the biggest one is called "Super."
Go figure.
This Big Party Bus will hold forty five passengers, or celebrators.
It is decked out like the others with dance poles and laser lights.
All of our party buses are like that, you should come see them.
Super Party Bus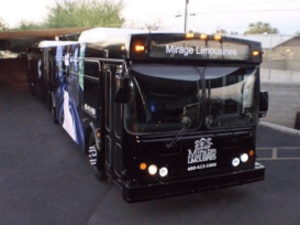 This humongous party bus is seventy feet long. Its so long it is articulated, or bends in the middle.
Like all of our party buses it comes equipped with top of the line audio. It has laser lights and crystal and mirrors. The ceiling lights up as does the floor.
Just gotta see it to believe it!
Mirage Limousines' Fleet
Perhaps you haven't seen something you like just yet. Mirage Limousines has a huge fleet of luxury vehicles. We surely have something to suit your needs. Get an Escalade limo. Or a Chrysler 300 limo. Head on over to the fleet page to see the complete selection.
See Your Transpo Before You Book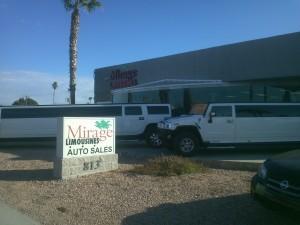 Mirage Limousines encourages you to see it before you book your wedding limo. Anyone can say they have a limo or party bus. Many do just that.
You wont know if they have it for sure until you go take a look at it.
Mirage Limousines has a beautiful showroom on Scottsdale Rd in Scottsdale, AZ. Surrounded by glass, there are limos inside and out.
We detail our vehicles here and we repair them here.
We are not afraid to have you shop around.
We are so sure that we will beat any limo or party bus rental company in Arizona that we invite you take a good look around.
We are confident that when you compare their limos to ours you will know that the only place to rent a limo in Arizona is Mirage Limousines.
Go check out our competitors. Tour their facility. Examine their vehicles.
Then come here, we have the only limousine showroom on Scottsdale Rd. Our showroom is surrounded with curved glass and you will often find two limos parked inside.
After shopping around a little bit, we are positive that you will notice a HUGE difference here at Mirage Limousines. Our showroom is nicer and our luxury vehicles are newer, shinier and better maintained.
Sadly, not all limo companies are alike. Some may only have one limo. Others may not have an office, instead choosing to run their limo company from their home.
Limousines may be in various states of disrepair. Torn seats, visible rust on the running boards. Trust me, this you WILL NOT see in a Mirage Limousines limo or party bus. With our in-house mechanics and detailers we can handle any little scuff or scratch at top speed.
More Wedding Limo Ideas
Mirage Limousines wants to be your source for information on planning a great wedding. Sure we want to provide your wedding limo. But we also want your wedding to be as special as possible.
Visit our page dedicated to weddings. There you will find many useful tips and tricks.
Now you see that your wedding transportation needs are covered. You are free to plan all the other many parts of a great wedding.
Mirage Limousines will escort your guests to their hotel and then to the church or hall.
We will grab your wedding party and make sure everyone shows up on time.
Then finally you and your significant other, life mate, can steal away in a limo of your own.
What could be better?
Summary
As you plan your wedding don't forget the transportation.
Spend some time shopping around.
All limo companies are not equal.
You need to see your vehicle before you book it.
Visit our Wedding Transportation Page for more tips, tricks and more wedding images.